Water flo​​ssers are not a particularly new phenomenon but they have been gaining massive popularity over the last few years and some research papers have found they are more effective at removing plaque and food debris stuck in between teeth than your normal string floss.
But is there really any point in investing in a tool that will give you slight benefits?
Well in this Zerhunt Water Flosser Review we will give you all the details you need to make an informed decision if it's actually worth your time.
What Is Zerhunt Water Flosser?
It's an electric based water flosser which pushes out water from the tip at high pressure so it can dislodge plaque and food particles that are stuck in between teeth.
It's actually quite convenient and easier to use than let's say regular floss which can be quite cumbersome at the best of times.
A Quick Update Before We Continue…
The Company has actually updated the Zerhunt flosser as per customer request.
This means the water tank holds up to 300ml which is up from 200ml they had last year and they have a big discount at the moment so if you want to take advantage of that please head on over to Amazon Now.
Another great thing about this particular water flosser is that it's cordless and waterproof which means there is no risk of getting it damaged or being electrocuted whilst using it.
It's also made by a reputable company which specialise in advanced technology to make it easier for us common people to use (don't be insulted by the word common).
About The Zerhunt Company
Zerhunt is devoted to provide affordable, high quality Beauty & Health, home improvement and sports products for every facet of life.   Zerhunt create products which help people to realize the power of technology and make people's lives better, easier, and more fulfilling.
This is what they are known for and they do it with great passion.
Zerhunt stands strongly behind the craftsmanship of their products which is why they back them with 45 Days Money Back guarantee and provide friendly, easy-to-reach support.
Who Is It For?
Judging by the reviews left, it's a powerful little machine and the amount of water pressure it releases is not really suitable for children under 13 years of age.
Never let kids use it on their own, always supervise them until they know all the features and are comfortable with it.
People who have unsteady hands might also find it quite hard to use because the water stream ejected needs to be aimed properly.
Any nervousness might cause a mess around the bathroom, trust me!.
It's also worth mentioning that these types of flossing devices can take some time getting use to. For some people it took 1 full week before they felt they had mastered the device.
For others, it might take only a couple of days. What I'm trying to say is please be patient and persistent and you will see results.
Top Zerhunt Flosser Features
There are so many features packed into this flosser that we could be here for a while but to make it easier let me state the most important and impactful ones:
3 Flossing Modes
Not everyone can handle the same pressure that is released by the Zerhunt which is why they have created a setting for everyone.
Normal Mode will blast 100psi of water into your mouth and be the most powerful setting available.
Soft Mode is the lightest mode that can be used to clean teeth. We recommend using this mode if it's your first time experiencing a water flosser.
Pulse Mode is where short blasts of water are ejected into the gums giving them a massage. You can expect around 1700 pulses per minute with this particular model which is more than enough to get the job done.
Universal Voltage
One thing with water flossers is they can be quite hard to carry around with you on your travels, especially if you look at the Waterpik flossers.
But the Zerhunt flosser is lightweight and compact making it easy to carry with you.
It also has 110 – 240V universal voltage which means you can charge it anywhere in the world, just make sure you have the right power adaptor for the country you are going to.
Insane Battery Life
Once fully charged you are able to use the water flosser for up to 14 days without interruptions and this is largely thanks to the premium lithium battery of 1400mAh.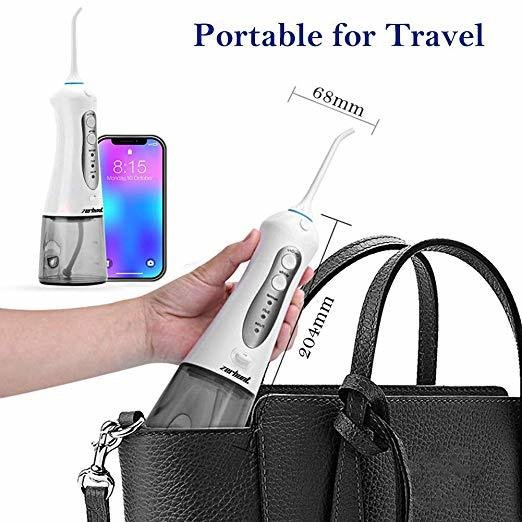 Lightweight
It may seem quite big initially but once you pick it up, it's surprisingly light which makes sense because you don't want to be carrying something that weighs a ton when on holiday or business trip. Even kids find it easy to use!.
Contents Of The Zerhunt Water Flosser
All the necessary things that you would expect are included in the kit:
1 x Zerhunt Cordless Water Flosser
1 x USB Cable
3 x Oral Irrigator Jet Tips
1 x Power Adaptor
1 x Travel Bag
1 x Manual Instruction
One of the great things is you get 3 Oral irrigator jet tips with this flosser so if anything goes wrong with the first one, you always have a backup to rely on or if you wanted you could share it with your partner.
A Few Negatives
If you have Small Hands you might struggle to grip it properly because the base of the flosser is quite girthy.
Some people have said their fingers end up on the bottom part of the device and this causes them to press the different setting buttons which makes the whole thing out of whack.
One other thing that surprises people is the vicious blast of water that ejects from the nozzle.
They simply aren't prepared for it. It's not really a drawback as such but you need to be wary that it packs a punch so be careful when using it for the first time.
The Positives Of Zerhunt Water Flosser
There are some negatives but these are over shadowed by the good things about the Zerhunt.
First off the portability factor is massive and it's why so many people have brought it. The travel case is an added bonus and it makes it easier for you to take the water flosser anywhere you want.
Another great thing about it is that unlike the more popular brands such as: waterpik, this flosser is cordless meaning you can have more flexibility when trying to manoeuvre it around.
The Price might be the biggest positive because it's much cheaper than it's rivals and yet it delivers similar results. It's currently on for $32.99 but that could change any time so be wary of that.
Zerhunt Water Flosser Reviews By Customers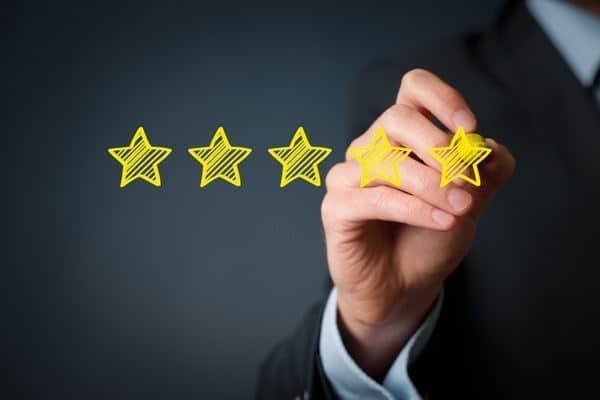 On Amazon it's been reviewed by over 800 customers and the majority gave it positive reviews.
The general consensus is that it worked really well and was relatively easy to use.
Being cordless and portable also struck a cord with everyone because it makes it easier to use and less mess is made.
Another thing mentioned was the power output of this device which surprised some people. They weren't expecting a powerful jet blast when they turned it on, but this tells us that the product is doing it's job.
Zehuntater Flosser Tips
Use lukewarm water as blasting with cold water might cause some discomfort.
Set the flosser in your mouth at the teeth you want to start with, then turn it on.
Moving your head rather than the flosser might work better for some people.
Turn it off before you re position it to another area of the mouth. Trying to move it whilst still on may cause some gum discomfort and runs the water out faster.
The On button is very sensitive, the slightest touch could unexpectedly blast you.
However, there were some critical reviews which stated that the device stopped working after a couple of months due to a power failure of some sort.
It's quite possible that there will be some faulty items but you can always talk to the manufacturers and get a replacement sent.
Where To Buy The Zerhunt Water Flosser?
This water flosser is currently being advertised on Amazon like everything else nowadays but that's a good thing because you automatically get a 30-day money back guarantee if the product is not to your liking.
It's all pretty safe and no fraudulent activity is likely to take place.
If your interested in enhancing your flossing routine then go and take advantage of the discounted Zerhunt Water Flos​​ser.
Final Thoughts
So there you have it, in this Zerhunt Cordless Water Flosser Review we have covered all the important information you need to make an informed decision on whether it's the right fit for you.
First of all the Compactness and portability factor stick out like a sore thumb.
It's one of the main reasons people love it so much because you can take it anywhere you want.
It's also very powerful with 1700 pulsations per minute and with a pressure of between 30 – 100psi, you are sure to get a thorough clean.
Yes there are other water flossers on the market which might do a better job or be more easy to handle but for the price that you pay here, you are absolutely getting the biggest bang for your buck.
Remember if your not happy with it there is also a 30-day money back guarantee for that extra piece of mind.
Give it a try and let us know what you think :)
Zerhunt Water Flosser F.A.Q
Q. Is this Water Flosser good with Braces?
A. Yes
Q. How noisy is this water flosser?
A. There is an obvious noise when it's running but It's not going to drive you mad
Q. It comes with 2 power adaptors, a squarish one and a larger, flatter one. Which one to use?
A. One is a USB port charger and one is for the electrical outlet.
Q. How do you know it's time to charge this electric water flossers?
A. You can press the "Mode" button for about 5 seconds when the water flosser is off. There will be display remaining power.
Q. Is it waterproof?
A. Yes, the waterproof rank for this oral irrigator is IPX7. You can safely use it in the shower.
Related Articles