We are always on the lookout for new products that help with fixing all sorts of oral health related problems and today is no different.
Hello Charcoal Toothpaste caught our attention recently because of all the claims about it being so nature friendly and being the best charcoal toothpaste on the market.
We had to dive a bit deeper and see what all the fuss was about. One thing for sure is it has a really warming and friendly vibe to it and the owners are very transparent which is always a good thing.
Stay tuned because in this Hello Charcoal Toothpaste Review we will give you the key facts on whether this is something worth trying or avoiding completely!
What Is Hello Charcoal Toothpaste?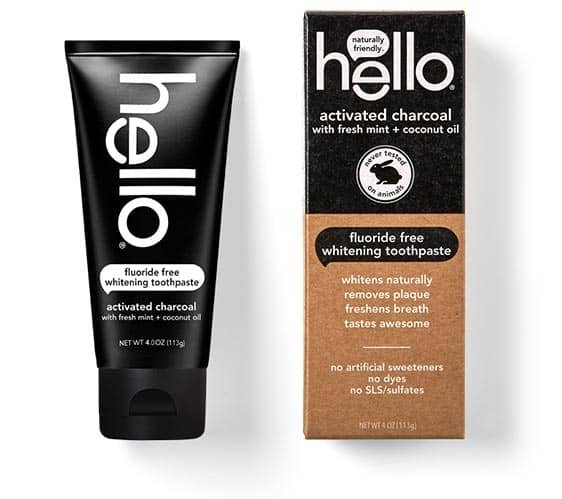 As the name states, its a charcoal based toothpaste that apparently has the ability to whiten teeth and reduce plaque build up.
Being charcoal based was a slight concern for us at first because some people say using it everyday might cause abrasiveness and effect tooth enamel but they have added other ingredients in there which reduce this problem.
Another thing you will notice straight away is the colour of the paste is black which isn't too surprising but its just weird that using something so dark will turn your teeth whiter.
The other aspect of this toothpaste is the nature friendly angle they are coming at us with, I mean we are all for sustainability and creating products without testing them on animals which is probably the reason hello is one of the fastest growing brands on the market at the moment.
The other great benefit of charcoal based toothpaste is that it helps to pull all the toxins from the mouth and absorbs them, helping you to achieve a healthier mouth.
It's also been FDA approved which means its been passed as being safe to use as an enamel friendly alternative to chemical based toothpastes.
If you want, you can go and check out their wide selection of Toothpastes over at Amazon
Who Is It For?
The brand Hello itself creates various different toothpastes which makes it easy for almost all age groups to indulge themselves in.
Even toddlers and babies from 3 months old can get a piece of this unique paste. For example Lets' take the organic apple flavoured gel which keeps little teeth and delicate gums clean and strong.
Plus, it's safe if accidentally swallowed by kiddos just learning to brush.
There is one issue you need to note if you're a woman who is pregnant, hello have said that their sensitivity relief fluoride toothpaste contains aloe Vera and apparently this isn't recommended during pregnancy.
Although toothpaste is not intended to be consumed, it is always best to consult your doctor if your concerned.
To be honest there isn't much to worry about because Hello have been very thorough in the testing of all the products they have created.
They are formulated in accordance with FDA requirements and manufactured in facilities that meet the FDA's Current Good Manufacturing Practices (CGMPs) requirements.
For all the fluoride toothpastes Hello produce, they have done third party testing that demonstrates the pastes are effective at removing stains while being gentle on your teeth.
These tests are called PCRs (pellicle cleaning ratios) and RDAs (relative dentin abrasivity)
Features

So far there is a lot to like about the Hello brand toothpastes but the main points that stick out to us are:
Quality hand Picked Ingredients
The charcoal fluoride free toothpaste that we are concentrating on right now only uses natural stuff. For example the charcoal is sourced from sustainable bamboo.
It's free from, sls/sulfates, artificial sweeteners/flavors, parabens, micro beads, triclosan, and gluten. It's also made in the USA with globally sourced ingredients in BPA-free tubes.
No Animal Testing
We are not sure how toothpaste can be tested on animals in the first place but its great that they don't even consider it.
To be honest there is no reason to be testing on animals anymore as you have humans that are more than willing to be human guinea pigs if you pay them enough.
Something For Everyone
This brand stocks numerous toothpastes and even mouthwashes that it can get confusing as to which one to go for. It's not a bad thing if were honest.
But its not just the range they offer but the whole age ranges they cater for that makes it stand out from other brands.
FDA Approved
The company has undergone testing for all of their toothpastes and are FDA compliant and also ISO standard for enamel safety.
There is nothing to worry about. They have gone a step further and routinely carry out third party testing to ensure all their products are consistently produced to the highest quality.
Can You Use Hello Charcoal Toothpaste Everyday?
This is probably the major concern we had about this particular brand because when we look at other charcoal based products, their manufacturers often times say that you should use it sparingly (3-4 times per week).
So we tried to find out why this hello toothpaste was different and to be honest we couldn't find anything that distinguishes it from the rest.
The only thing the people over at hello said is:
"while formulating our activated charcoal toothpaste, it was one of our top priorities that our paste wasn't only effective and delicious, but also very gentle and safe for everyday use.
All of our toothpastes are well within the ISO standard for enamel safety."
To be honest if there was a real concern about enamel erosion due to everyday use, the business would go bust because customers would stop buying it.
Rather its the opposite, the company is actually growing year-on-year and is actually the fastest growing toothpaste brand among the top 16 brands in the US (source: SPINS MULO L52 weeks, $ sales, 12.03.17).
I think that should put your teeth at ease!

How To Use Hello For Maximum Effect
Before we get into the details, be warned that this toothpaste will get messy in the sink so extra precautions need to be taken.
Apply 1 inch of strip of the toothpaste onto your favourite toothbrush
Brush your teeth thoroughly for at least 2 minutes
Spit it out directly into the sink otherwise you might see black spots all over the place
Do this twice per day morning and evening time just before bed if you want to see the best results.
Basically you use it the same as you would a regular toothpaste but the only exception being the black charcoal will need to be spat out with accurate precision if you want to keep your sink nice and clean.
Helpful Tip: Spit the toothpaste out first after brushing, Then turn the water on to rinse it down the drain. Otherwise, it will splatter all over your sink and you'll have to clean it after each use. You're welcome. :)
If you feel the use of charcoal is getting a bit too much you could always reduce it down to once a day and use another toothpaste later on in the evening. It's really up to you.
Pros & Cons
Right off the bat you could probably think of the great stuff we have talked about regarding the hello fluoride free charcoal toothpaste but let's recap some of those so it is fully engraved into your brain.
Leeping Bunny Certified
This basically means that the entire supply chain used by hello is cruelty-free.
Not only do they not test their finished products on animals, but their individual ingredient suppliers also verify that they, too, do not test the individual ingredients on any animals.
Various Options To Choose From
Hello is fast becoming a big brand and to help it retain this title they need to be constantly coming up with new products and that's what they have done over the last couple of years.
There are so many options for all age ranges to use and they have even created their own mouthwashes.
Multiple Cleaning Action
This particular toothpaste has the unique ability to whiten teeth but at the same time control the amount of plaque build up that occurs throughout the day.
Often times you will see charcoal based toothpastes only being advertised as a whitening formula but people tend to forget that charcoal has the ability to suck in toxins and bacteria and dispose of them.
Negatives
Messy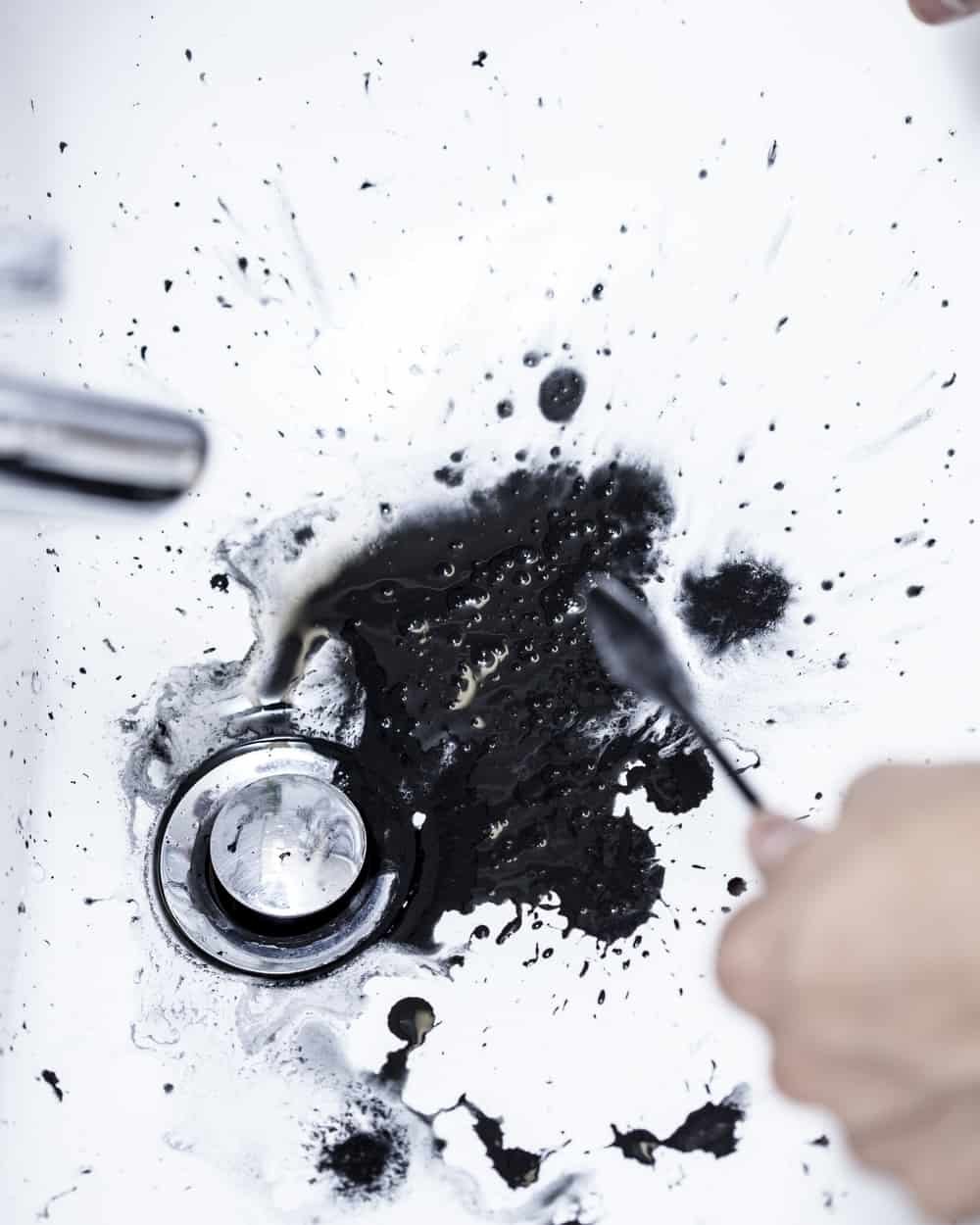 Using charcoal can be quite messy because it can stain your clothes and sink if you are not careful when you spit it out.
Don't worry though as the stains will go away, otherwise, we would all be walking around with black teeth.
Potential Abrasiveness
Although the company has said its fine to use every day, we are still a bit skeptical because charcoal is a known abrasive and can damage the enamel if used regularly.
Personally, we would err on the side of caution and use it every other day to mitigate the problem.
What Do Customers Think?
On Amazon it has over 900 Reviews with an average star rating of 4.3 out of 5. This makes it a really popular seller and tells us it works for the majority of people.
The general consensus was it worked really well at whitening teeth with some people seeing a drastic change in the color of their teeth in only a couple of weeks.
The other positive factor was the ingredients contained in this paste. People love the fact it does not have the traditional chemical-induced stuff in it.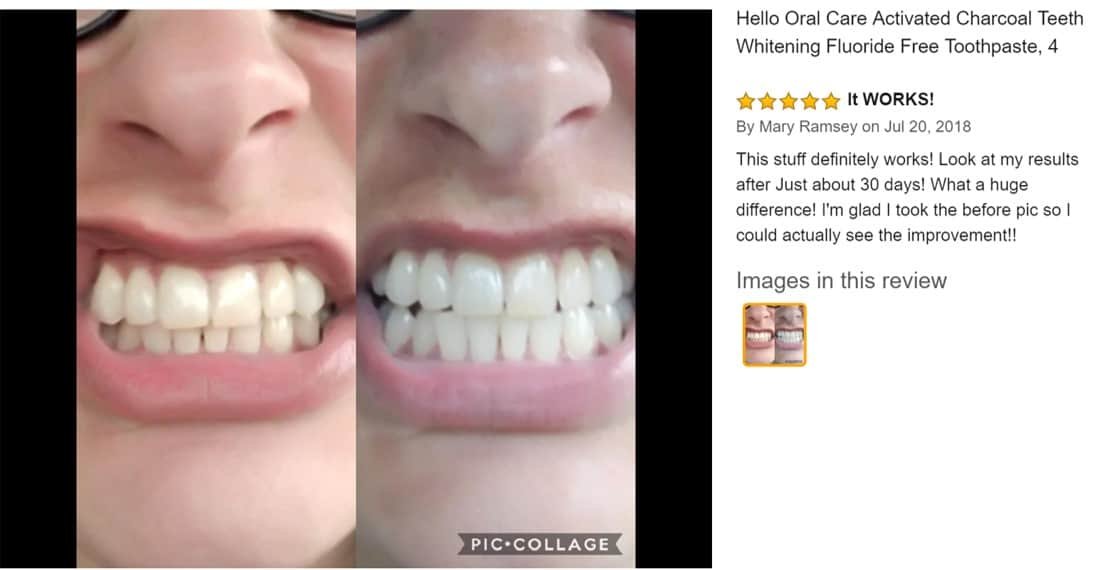 However there were some critical reviews (like there is with everything in life).
A few people noticed that they started to see discoloration on some of their teeth and their gums started to hurt. We think this comes back to the point about abrasivity of charcoal.
Some people have stronger enamel than others so you need to be keeping a close eye on any changes that happen the first few times you use the toothpaste.
Depending on what it is, you might want to only use the charcoal toothpaste 2-3 times per week.
Price and Where To Buy Hello Charcoal Toothpaste?
First of all this is a premium quality product so its no surprise the price is going to be higher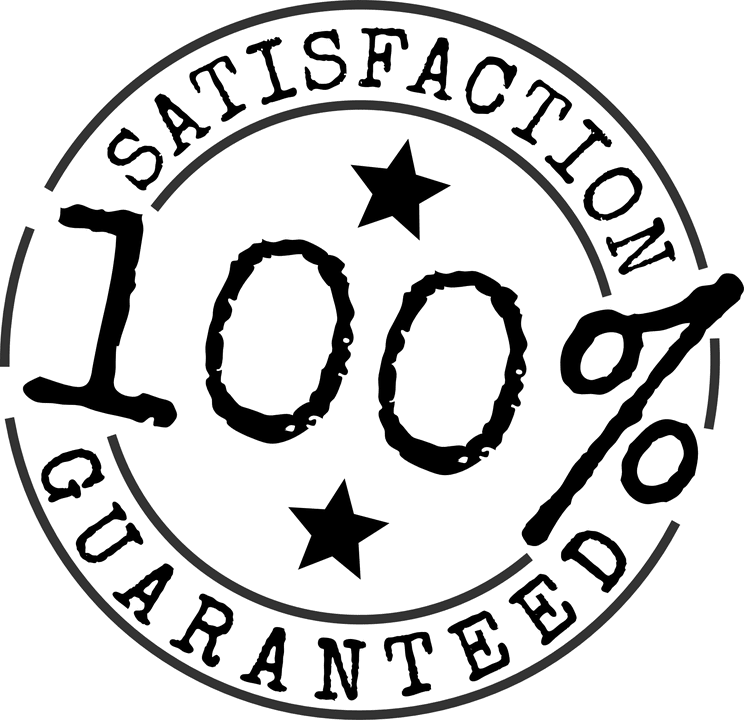 than the traditional toothpastes on the market.
The price of the Oral Care Activated charcoal teeth whitening fluoride free toothpaste is $4.82 for a 1 four ounce tube. This is actually quite reasonable and if its your first time buying it then we recommend this option.
If however you have already tried the toothpaste and like it then we suggest you go for the 4 pack option which costs $18.99. This option will save you $4.30.
It's available on Amazon or the official Hello website but to get the special discounts, you will need to purchase from amazon and the other thing is the 30-day money back guarantee you get so if for some reason you aren't happy with it you can always get your money back.
If your interested in whitening your teeth and making your gums healthier,then head on over to Amazon and take advantage of the special offer they currently have on.
Final Thoughts
This Hello Charcoal Toothpaste Review has given you all the information regarding its birth and all the features it has which makes it one of the more popular brands currently on the market.
First off the ability to whiten teeth whilst keeping gums and teeth healthy is great.
Other charcoal-based products are only advertised as a whitening agent which makes this hello brand extra special but the thing you need to be careful about is the abrasiveness.
Although the manufacturers have said it is perfectly fine to use every day there have been a couple of people who complained about tooth discoloration and gum problems occurring after months of regular use.
We recommend that you use it 3-4 times per week and then take a week off here and there just to be on the safe side.
But if you can look past this 1 problem, you will be exposed to some wonderful benefits this toothpaste has to offer and the fact its vegan and natural is a big bonus.
If your looking for something different, why not give this a go?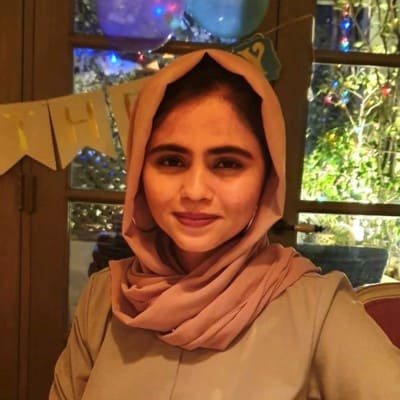 A qualified Dentist who holds the BDS, RDS qualification. When she's not helping patients with their oral health, you will find her on here writing topics on various dental issues. Her deep passion for writing makes her happy and fulfilled.