The main things you need to know about the Oral B 7000 Smartseries Electric Toothbrush
We know everyone simply does not have the time to be reading a 2000 word article on a brush which is why we are going to give you a quick overview on whether the Oral B pro 7000 is for you or not.
However if you want to read the full Oral B 7000 Smartseries Electric Toothbrush Review then just pop a bit further down and start reading.
1. Is There Anything Wrong With The Oral B 7000?
NO
Oral B is the leading brand when it comes to high performance toothbrushes and they make sure each model they create meets their high standard. The Oral B 7000 is no exception and we like it because it has so many smart features that come with it.
However some people will argue whether the features are even worth it because they won't be used at all. We personally believe if you make the effort to learn the technology, you will enjoy it more :).
It comes in 2 colours:
The white option is slightly more expensive than the black, we don't really know why and although we think it looks slightly better it should not be higher in price.
2. Are There Any Other Brushes I Should Consider?
The Oral B 7000 is still a relatively new model with high end features and does a good job at cleaning teeth but if your looking for something slightly less expensive but still has some good features to help maximise your oral routine then we recommend you take a look at the Oral B 5000 Review we wrote a couple of months back.
It's a seriously good brush and we could argue that it is just as good as the Pro 7000 but cheaper!
3. Where Can The Smartseries 7000 Be Brought From?
Most big stores should be stocking various different electric toothbrushes and if you look around you will probably find that there are slight price differences.
Sometimes online can be cheaper so make sure to also check places like eBay.
And of course Amazon is probably the most likeliest place people like to shop simply because the company always has discounts and special offers going on throughout the year. It's currently priced at $129.94 but make sure to read the reviews before you commit.
What's Included In The Box?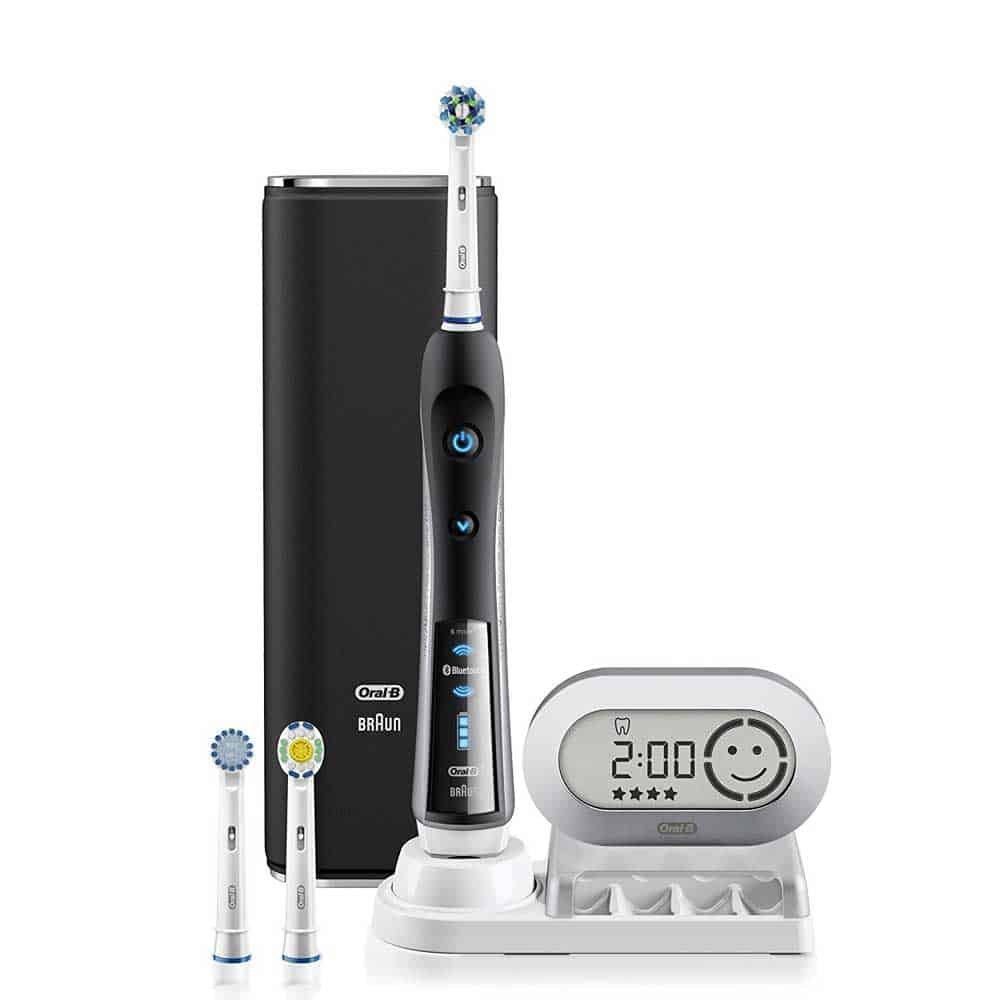 It's quite a comprehensive toothbrush which contains everything you expect of a high end product:
Oral B 7000 Smartseries Electric Toothbrush – (White or black colour depending on your choice)
Instructional booklet – showing you how to use it for maximum effect
White charging station
4 Brush Heads (2 CrossAction, 1 3D white, 1 Sensitive)
Black pouch – used for storing the charging station if travelling
High quality travel case
Wireless smart guide (Batteries included)
Toothbrush head storage compartment
Pros
Waterproof – Some older models lacked this feature but with the 7000 you can happily use it in the shower and not worry about it getting damaged. Pretty good considering the technology that is packed into it.
Long Battery Life – This toothbrush can hold a charge for 12 days making it one of the best in the oral b range.
6 Cleaning Modes – this makes it really versatile and helps you get a varied cleaning experiences based on your specific needs. You get: (daily clean, gum care, sensitive, whitening, deep clean, tongue cleaner)
Pressure Sensor – This is one of the top features in our opinion because toothbrush abrasion is a real problem and leads to gum recession. This feature will single handedly stop that from happening.
Timed Cleaning – 2 minutes is the minimum we need to be aiming for and the oral b 7000 will give you this and will even beep when it's time to stop.
2 Year Warranty – Unless you do something stupid like stomp on it or throw it at a wall, the company will happily replace it for you.
Smart Wireless Guide – This portable clock and timer shows your cleaning mode, how well you are brushing and how long you have been brushing for. It helps you to refine your brushing routine so you get the maximum out of the toothbrush.

Cons
Cleaning Modes – although we have put this in the pros, there are some people who find it too confusing. The only way to know which modes you're on is by looking at the app. The brush also doesn't remember the last mode you were on but fortunately you can disable any modes you don't use in the app.
Charge Time – It takes around 12 hours to fully charge the toothbrush so keep that in mind if you are travelling.
Design – The only thing we noticed is when you buy the black model, the brush heads are white. There is a slight disconnect which although not a huge deal, is the only model which doesn't offer matching brush heads.
Price – It's not overly expensive but when compared to the Oral b 5000, it's $20 more and you basically get the same features from both toothbrushes.
Who Is The Oral B 7000 Smartseries For?
It can be used by the whole family because you can get the detachable brush heads and have 1 for each member of the family. It comes with different coloured bands which you can snap onto the brush heads so everyone knows which one is theirs.
It's really interactive and that makes it more appealing to kids and teenagers alike so you shouldn't have anymore trouble trying to get the little ones to brush their teeth.
That being said, not everyone has $130 or so to spend on toothbrushes but luckily there are cheaper alternatives which although don't have the extra features and interactivity, will give you a really good clean.
Oral B 5000 ($100) – Basically the same as the Oral B 7000 toothbrush, but missing a few extras like a nicer carrying case and tongue cleaning mode. The tongue cleaning mode isn't necessary and we recommend you get a real tongue scraper anyway (they are better).
The Mechanism Of Action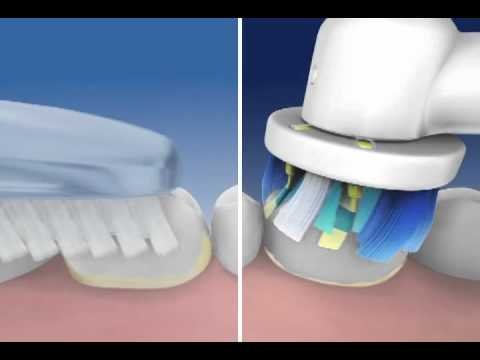 The Oral B 7000 utilises what is called rotating oscillating technology. The electric toothbrush manages 40,000 oscillations and 8800 pulsations per minute and therefore gives a deep thorough clean. We think Oral-B's pulsation/oscillation technology is great for bio film removal, staining, and gum health.
We should say that this technology isn't unique to the 7000 series, it's available with any of Oral-B's cheaper electric toothbrushes. Any studies you have read about the oscillating technology are probably funded by the company and same goes with Sonicare.
These two are the main brands and will try everything to get a slight advantage over the other. But in all honesty we prefer the Oral b rotating technology as we feel it gets rid of the soft plaque more efficiently.
Is The Wireless Smart Guide Pointless?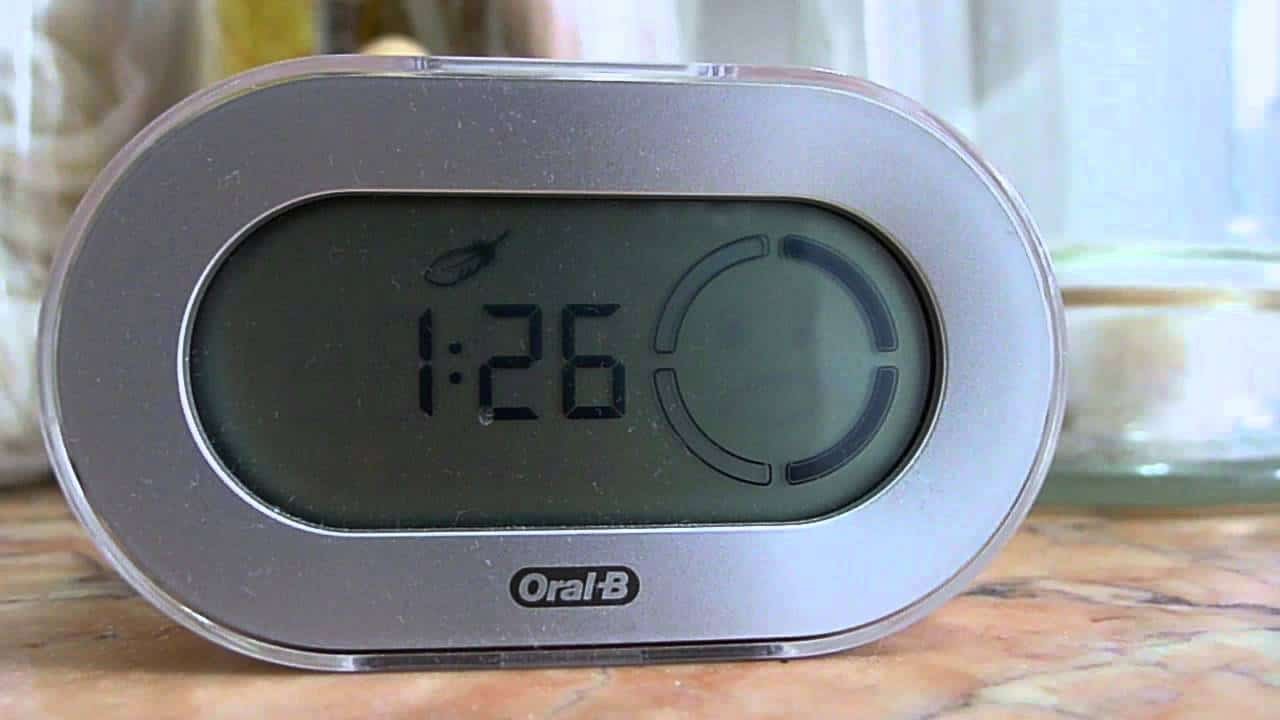 That's debatable but Let's take a look at the main functions of this interactive toy. It acts as a teacher encouraging you to improve your brushing habits constantly.
When it's not in use it acts as a clock but when you switch the toothbrush on, the smart guide will connect to it via a Bluetooth connection. When you start brushing, the wireless guide will have a timer of 2 minutes to make sure you brush for the right length of time.
It will also tell you to switch to different areas of the mouth known as quadrants. A face appears within the quadrant guide with either a smile or a sad face depending on your performance. Brush too hard and you get a sad face. Brush for 2 minutes and get a happy face.
It will also show you the cleaning mode you are currently using.
That's quite a lot of stuff it tracks for you which is really clever and it's not pointless either because so many of us brush too quickly and use too much pressure which is bad for us. Having this Wireless smart guide is a good feature and we recommend you use it every time you brush to get the most bang for your buck.
What Do Customers Make Of The Oral B Pro 7000?
As of March 2019 there are 4,338 reviews on Amazon alone with a rating of 4.3 out of 5. This makes it one of the most popular toothbrushes on the market.
People in general were pleased with the different features this brush had and liked the different cleaning modes it offered. This is especially important if you are going to be sharing the electric toothbrush because one person might be suffering from gum sensitivity while another member is wanting to polish/whiten their teeth. This brush gives you the option to do that.
However there were also some negative opinions about this product. The biggest recurring problem we saw was issues with battery life. One person mentioned he brought the toothbrush and charged it fully before using it and after a 1 and a half days, the battery was fully gone.

That sounds really bad but we tested it and the battery lasted 12 days. We know there are cases were the product is faulty or damaged and unfortunately this is probably one of those cases. But you get a 2-year warranty and also a 30-Day Money Back Guarantee.
If you do buy the toothbrush and find it's faulty, immediately get in contact with Amazon and people over at oral B so they can rectify the issue.
Price And Best Place To Buy
There are actually 2 colour options you can choose from Amazon:
Black – This model costs $129.94
White – This model costs $189.99
Now that is quite a price difference if you ask us and all because of a different colour. If your not bothered about your brush looking pretty then we definitely recommend you get the black model and save yourself the money. Amazon are also doing a $30.00 off coupon for this particular toothbrush but we don't know how long this offer will stay up so head over to Amazon and Get the Oral B 7000 Pro in the colour of your choice.

You can also look around at your local stores to see if they are cheaper, it's not likely but sometimes physical stores need to get rid of old stock so they might have a stock clearance sale.
Final Thoughts
Hopefully in this oral B 7000 Smartseries Electric Toothbrush Review you have learned why this model is a worthy contender. It isn't too expensive and considering the features and technology you get with it, we happily recommend it to anyone.
The features we found most useful were the pressure sensor and the 2-minute timer because these two things get neglected by most of us. Applying too much pressure on the teeth can cause enamel damage and cause gum abrasion whereby the gums start to recede.
The only thing that annoyed us the most was the big difference in price between the black version and the white version. The white model is priced at $189.99 whilst the black model is $129.94. How can anyone justify that!
If you like the appeal or need more cleaning modes and intend to share this brush with other family members, this electric toothbrush represents a good buy all the while giving you obvious oral health care benefits.
Oral B 7000 Smartseries Electric Toothbrush F.A.Q
Q. What brush head does it come with and what alternative ones can be used?
A. With the Pro 7000 you get 4 brush heads included: a Cross Action, Pro White, Floss Action and Sensitive. You can change the head with any others on offer from Oral-B. There are 6 main brush head options you can choose from which include: Cross Action, Floss Action, Pro White/3D White, Sensitive, Precision Clean and TriZone.
Q. Does the Pro 7000 come with a warranty & how long is it?
A. If purchased new from an approved retailer the Pro 7000 will come with a 2-year warranty.
Q. Can I use the Pro 7000 in the shower?
A. Yes. The Pro 7000 is water resistant so if you choose you can use it in the shower
Q. Can the Bluetooth on the brush be disabled?
A. Yes you can disable it, just take a look at the instruction booklet
Feedback
Have you previously owned the Oral B Pro 7000?
if so please leave a comment below and tell us your experience using it as It might help others to make a more informed purchasing decision.
Related Post: Everything You Need to Know About Sonicare 5100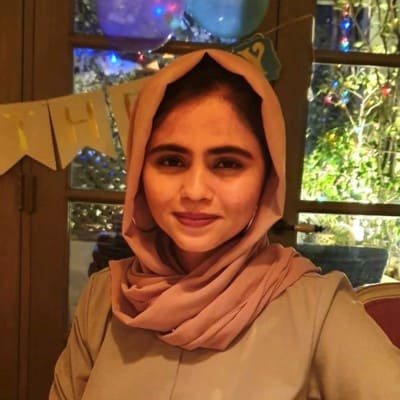 A qualified Dentist who holds the BDS, RDS qualification. When she's not helping patients with their oral health, you will find her on here writing topics on various dental issues. Her deep passion for writing makes her happy and fulfilled.