The waterpik Wp-660 is being advertised as The Best Waterpik on the market. But before we even entertain this notion we need to look at it in critical detail and see whether it stands up to this statement.
Waterpiks are getting more popular by the day because of the apparent superiority they have over regular flossing. There have also been studies carried out highlighting this point in more detail.
Our Score
ADVANCED WATER FLOSSING: Aquarius is a performance water flosser model featuring enhanced pressure with 10 settings for a custom clean, massage mode for gum stimulation, plus a built-in timer/pacer pauses briefly at 30 secs and 1 min to help track flossing time.
HIGH VOLUME RESERVOIR AND SLIM HANDLE: Holds 22 ounces for 90 seconds of use, no refilling required. Small maneuverable handle makes it easy to floss all areas including back teeth and includes a convenient water on/off switch.
DENTIST RECOMMENDED: 9 in 10 dental professionals recommend the Waterpik brand. Waterpik is clinically proven and the first water flosser brand to earn the American Dental Association (ADA) Seal of Acceptance.
KEY FEATURES: 7 tips for multiple family members and needs, 10 pressure settings (10-100 PSI), removable 22 oz reservoir (top-rack dishwasher safe for easy cleaning), 90 secs of flossing time, 360 tip rotation, 120VAC/60Hz for use in North America only.
EASY AND EFFECTIVE: The Waterpik Aquarius water flosser removes up to 99.9 percent of plaque and is up to 50 percent more effective than dental floss for improving gum health. Just fill the reservoir with warm water, place the tip in your mouth, and start flossing.
Essentially the pressure of the water that is released from the tube disrupts the small particles and soft plaque from in between teeth and this keeps bacteria from settling down and forming biofilms.
Can regular flossing get the job done?
Yes
To be honest if your brushing and normal flossing is good then buying a waterpik is not an ideal investment but if your someone who has trouble using string floss and make your gums bleed as a result then it is worth looking into!
What Is The Waterpik Wp-660?
It's an electrically driven device that pumps water at high pressure in between your gums and teeth. It has a small tank to hold the water and different settings so you can choose the one that suits you best.
It's been approved by the American Dental Association and as such has the seal of acceptance marked on it.
It's relatively big so has to be set on a counter top close to a mains connection for it to work. It could be quite hazardous with all the water around so you will need to be extra careful while using it.
It's also undergone clinical trials which has resulted in significant improvements in oral health, including a 93% improvement in reducing bleeding and up to 52% better at reducing gingivitis than traditional dental floss.
It's currently the Number 1 seller as well as being Amazons choice and with over 13000 reviews there must be something right about it. Why not go and read what previous customers have been saying about it.
Key Features Of Waterpik WP 660
One of the reason you should invest in the waterpik 660 is the….
10 different pressure settings:
This option allows you to control how much pressure the machine releases at a given moment, its's especially useful if you have sensitive teeth because then you can adjust it to suit your gums so it wont be painful to use.
Thats why so many people love it, Everyone can use it!
You Also Get 7 Tips Included With The Waterpik Water Flosser:
In the image below you can see exactly what each tip is used for: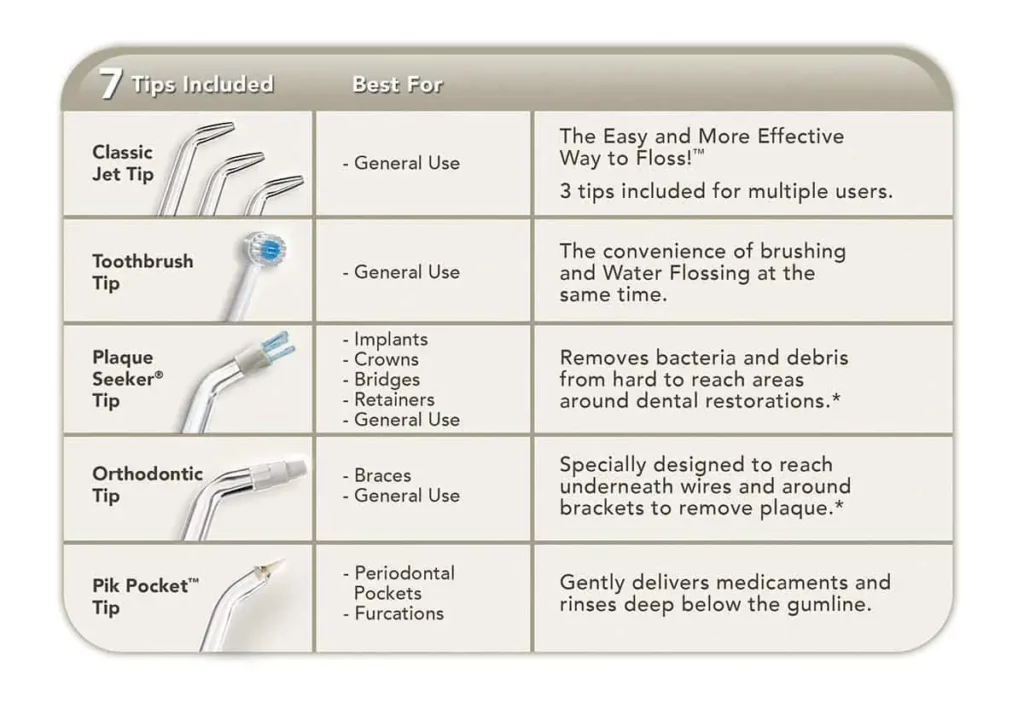 You as the buyer are getting alot of value with this feature because it allows you to floss your teeth according to the specific problem you have at any given time.
We know with some products you have to buy the tips separately which is a pain and can be more expensive, which is why we are giving this waterpik some extra brownie points :)
Other key benefits include:
Dishwasher safe and friendly
Hidden flosser tips compartment, you can store up to 2 flosser tips there (If there are 3 people using this flosser, 1 tip can be kept on the nozzle itself)
First in category- waterpik water flosser awarded the american dental association (ADA) seal of approval 
Healthier gums and brighter teeth in just a minute a day!
90 seconds of water capacity
LED function indicater
36 months warranty
Another little feature is that the Waterpik water flosser comes in 6 Different colours, so you can get one that fits your personality:
Who Is It For?
This model can be used by people who don't  know how to floss effectively using regular string floss or people who suffer from gum disease. It's been studied and has the potential to combat this problem if used as part of a good oral routine.
The only age range we would caution is children under 8 years old because the pressure from the nozzle might be too much for some and it could cause pain to the gums and make them sensitive. In saying that, the pressure can be adjusted to a level where it doesn't cause discomfort but we reckon the more powerful settings will give the best results with this kind of flossing.
How To Use The Waterpik Wp-660 For Best Results
Follow these steps for maximum effect:
Fill the water tank/reservoir with lukewarm water (tank can be lifted out and replaced).
Fit the appropriate nozzle to the handle of the flosser ensuring it has clipped into place.
Adjust the pressure dial on the unit to your desired pressure level (can be adjusted later).  If it's your first time using, turn down to a lower setting.
Press the power button to switch the unit on.
Lean over the sink and place the tip of the flosser into your mouth. Close the lips enough to prevent splashing while still allowing water to flow from mouth into the sink.
Slide the switch on the handle from off to on, the water will begin to flow.
Aim water at the gum line at a 90 degree angle. Follow the gum line and pause briefly between teeth.
When complete, slide the button to 'off' and then press the power button to turn it off.
Extra Little Tips On Using The Wp-660
Put a wash cloth or grip pad under the unit to help lower the vibrations
Once a month do a cleaning rinse: clean the basin out with vinegar, allowing it to soak for 1 hour and dont forget to put the wand tips in with it. this will kill all the odour causing germs. pour that out and do a full hot water rinse to remove the vinegar. afterwards do a hydrogen peroxide rinse, this will kill any mildew spores in the tubing
Dont leave water in the basin, or put any non-liquid or sticky additives in. You dont want things clogging up the tubing.
Are there Any Negatives To The This Waterpik…
Well with every product there is always going to be Pros and cons. The Waterpik Wp-660 is no exception:
CONS:
On/Off button hard to switch. There have been some reviews by customers stating that the on/off button on the handle is hard to operate, however you also need keep in mind that these same people also have reported to have arthritis in their fingers. generally these people would have difficulty operating all similar oral irrigation devices not just the wp 660.
Only compatible for use in North America
Size. Its a little bulky, not ideal for the smallest bathrooms with limited work surface space.
Messy. It can take some time to get used to the right technique and avoid making a mess but initially you are bound to get water squirting all around you.
What People Are Saying About The WP-660…
With over 13000 reviews on Amazon and currently holding the Number 1 Seller status as well Amazons choice you should feel confident about it. It has an average of 4.4 stars out of 5 which means the majority of people liked it.

The general consensus was it did a great job at removing plaque and food debris from in between teeth and was quite easy to use after getting familiar with it. They also like the fact they got so many different extra in terms of tip heads which meant they could share it with family members.
Here is review left by Ebony: (March 2019)
"So… this Waterpik is amazing. By the way this is my first review ever on Amazon after ordering numerous of things. So I had 4mm and 5mm periodontal pockets from not flossing and also experienced some bone loss, I also had to get a very uncomfortable deep gum pocket cleaning. I literally hated flossing and would find myself avoiding to floss even though I needed it very much. My gums were red, swollen, and inflamed because I was in the early stages of periodontal disease. I started using the Waterpik flosser, and instantly like this way of flossing much better! After using it consecutively each night for only 5 days my gums were noticeably better and felt much better. After 2 weeks of using the Waterpik flossing, coconut oil pulling, and mouthwash treatment, my gums have done a complete 180 and my mouth and gums are starting to heal properly! Also this flosser can be somewhat loud, but definitely gets the job done ( but the dentist still recommends string flossing). Brought this with my own money and this is an honest testimonial/review. I will be back with an update on what mm my gum pockets will be!"
The only downside is the noise it makes. Sure it's bearable but make sure you don't use it whilst you have people sleeping otherwise they won't be very happy with you!
Where To Buy The Waterpik Wp-660
Currently the waterpik 660 is available on Amazon which is great because of their high level of customer service and a 30 day return policy they offer if the product is malfunctioning. There's nothing to lose.
It's currently priced at $69.99 down from $89.99 which gives you a saving of $20.00 but we are not sure how long this offer will stay up. Amazon likes to play around with pricing options, it may go up or it may go down but if you like you have read then we recommend you Go and check out the Wp-660 and take advantage of the special offer.
Final verdict: Is The Waterpik WP 660 Worth It?
ANSWER: YES
Bottom line:
It's currently the best water flosser on the market…
Effectively removes plaque from in between your teeth..
Clinically and scientifically tested by the American Dental Association..
Good investment to make on your teeth and gums to make sure they stay healthy for life
Final rating : 4.5 stars out of 5 
It's important you keep your teeth nice and healthy everyday…
Because if you just sit there and let dirt and grime get into your teeth, you will be in alot more pain as you get older!
Waterpik Wp 660 F.A.Q
Q. Is the Waterpik 660 available in Europe?
A. Currently the product is only available in North America
Q. Where to buy this particular model?
A. You can purchase the waterpik wp 660 directly from Amazon.
Q. Waterpik offers a 3 year warranty on this product, If i purchase through Amazon, is the warranty still valid?
A. Yes the warranty on the wp 660 will still be valid
Q. Can this be used with mouthwash in the reservoir?
A. We don't see why not. Pure mouthwash might be too much for the mouth coming out at hard force and would also use quite a lot. We know someone who mixes half and half. Since some mouthwashes can be sticky, we would also run clear water through to clear the hose.
If you have anymore lingering questions about this water flosser then please get in touch and we will be more than happy to help out.