Teeth whitening is a massive subject and is popular with most people. It's a thriving billion dollar industry which continues to grow each year.
Do you know what else happens?
More products come onto the market claiming to be the best whitening solution for our yellow teeth.
But sometimes it can be hard to distinguish between the good and bad and this is where we come in.
We are here to equip you with all the necessary information you will need to determine whether a whitening kit is good or bad.
Today is all about the VS1 Teeth Whitening Review so make sure to stick around till the end to see if it's going to change your life…
What Is The VS1 Teeth Whitening Kit?
Like many other whitening systems on the market, VS1 is an LED light-based whitening system. You basically have whitening serum pens that you apply to the teeth and then insert a mouth piece and turn the blue light on and wait for 10-15 minutes.
It differs slightly from other LED teeth whitening systems because unlike batteries to power the mouth guard, you actually have to plug the guard into your smartphone device.
This is actually a good idea because whilst you are waiting for the whitening system to work, you can browse your phone which will stop you from getting bored.
This dental whitening kit seems pretty easy and simple to use. It claims to remove decades of wine, coffee, and tea stains in 10 minutes (not entirely true).
From experience we know that these sorts of whitening kits need at least 7 days of daily use for them to be effective and allow you to see whiter teeth.
They should really be saying: get bright white teeth after a minimum 70 minutes use.
The company is based in the United States and pride themselves on the animal free testing and kosher ingredients they use in their whitening serum.
Another feature of this kit is that it can be used on braces and veneers.
Benefits of Teeth Whitening
There are several benefits to whitening your teeth, including both cosmetic and health reasons.
It is one of the easiest ways to turn back the clock. Whiter teeth make you look and feel younger. Many people often associate white teeth with beauty and youth, which is why our smile is so important.
Improve your self-confidence. Having a beautiful smile can help boost your confidence and self-esteem. When you have unsightly stains on your teeth caused by wine, coffee, tea or other substances, you tend to smile less and cover your mouth.
It is easy to do. One of the biggest benefits to whitening your teeth is that you can do it yourself at home. You no longer have to make a costly appointment with your dentist for an in-office teeth whitening. There is also zero tooth preparation required.
It is easy to maintain. At home teeth whitening is also easy to maintain and only takes a short amount of your time to achieve.
Improve your oral health. When our teeth are whiter, we may find ourselves taking much better care of our teeth in order to keep them that way; therefore, we may find a significant improvement in our oral care routine.
You will find that the VS1 Teeth Whitening Kit is an at-home whitening treatment that will actually work. However, you must keep in mind that it is not a substitute for your regular tooth care.
You should still maintain your regular visits with your dental office and continue brushing and flossing your teeth at least twice per day.
Types of Teeth Stains
There are generally two different types of teeth stains or discolouration that may benefit from an at-home whitening treatment.
Extrinsic stains: these are surface stains often caused by coffee and foods. Whitening treatments are usually effective at treating this type of tooth stain.
Intrinsic stains: these stains and discolourations are often much deeper and can actually build up inside of the enamel. You may need an abrasive paste or even bleach to remove these stains. It may also warrant a visit to your dental office for an in-house whitening treatment in order to make a difference.
About The VS1 Teeth Whitening Company
It was founded by Jake Ippolito and Salvatore Rich after they had struggled to find a whitening solution that worked for them.
They decided to do some research and come up with their own formula. 
The other aspect was to bring a treatment that was affordable for the mass public. 
Their main base is in Phoenix Arizona (USA) where they ship all their products from. 
They have a support email helpline and also a telephone number if you want to get in touch with them.
Who Is VS1 Teeth Whitening Kit For?

This whitening kit is suitable for people of all ages, including children. This is because the ingredients in the kit are not dangerous and won't hurt the enamel of your teeth or cause major sensitivity.
It can also be used on teeth that have fillings.
Who Should Get Advice from the Dentist?
If you suffer from the following:
Gum disease. A serious gum infection that can cause significant damage to the gums and destroy the jawbone. Can become much more serious when left untreated.
Hypersensitivity. This refers to dental pain that is sharp and is of a shorter duration than other tooth pain. It is usually caused by exposed dentin surfaces and can become painful in response to certain stimuli, including thermal stimulation (hot and cold).
Periodontal disease. This is an infection that occurs to the structures around the teeth, including the gums. Bacterial plaque developing on the surface of the teeth is one of the most common causes of this type of gum disease.
If any of this sounds familiar, we would highly recommend you get advice from your local dentist to see if you will be alright using this kit.
Sometimes when there is a problem with your oral health, carrying out whitening treatments might make the problem worse.
Keep That In Mind!
Key Features
Guaranteed results or your money back
5 Year warranty
Patented LED activating technology
No harmful effects
Easy to use (10-15 minutes per day)
Compatible with all smartphones
FDA approved
PETA approved
Contents Of VS1 Teeth Whitening Kit
As with all whitening kits, there are some critical components that you need to achieve a good white smile. Here is what you get with this particular kit:
3 Whitening Pen Serums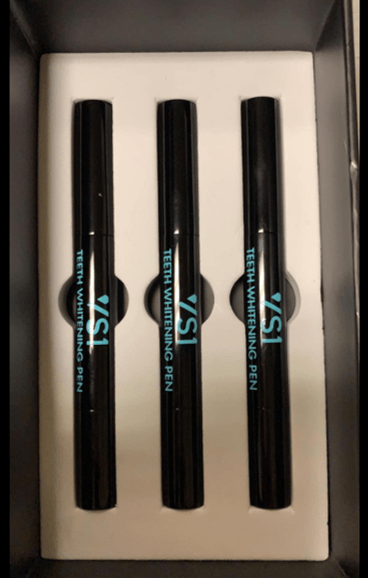 These are important because all the magic is contained within them. The active whitening ingredient carbamide peroxide is what's going to help remove the yellow stains off of your teeth.
The serums are made in the USA and are gluten-free, kosher and safe for the enamel. The soft brush tip evenly coats the surfaces of the teeth and allows you to get the whitening serum in hard to reach places.
LED Activating Light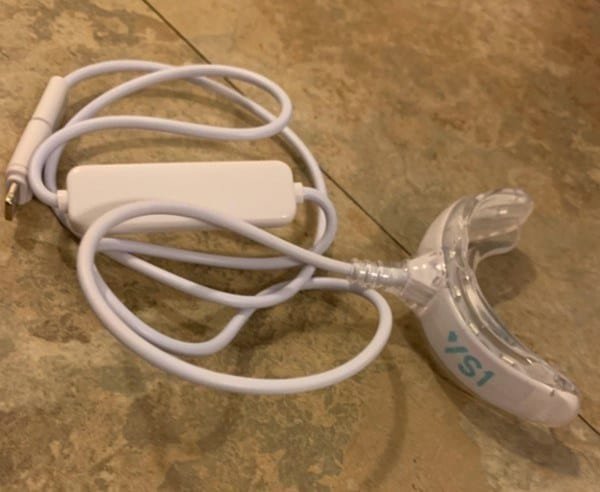 This patented advanced light system is what helps to get you the fast results.
If you were to use whitening pens alone, you would not see a difference in a few days; rather, it would be close to 2-3 weeks before you saw any changes. The light is what helps the gel to penetrate the outer layers of teeth.
But the main reason we like this LED kit is that you don't have to boil the mouth guard to fit your teeth. It's a one size fits all setup which means all you have to do is plug it into your phone and enjoy stress-free whitening.
Shade Guide
This is a cool feature because it shows you the different shades of teeth colour and basically, you make a note of your current stains, and after carrying out the treatment, you can compare the results to see if there were any changes.
Don't be too worried if you see little to no results after the first go as it takes time to see real changes.
7 days is a good benchmark for you to evaluate the product.
Instruction Booklet
The manual comes with easy to understand instructions and pictures to show you how to fully utilise this whitening kit for best results. It only takes a couple of minutes to set up and then 15 minutes for the actual whitening process.
There is no excuse about being short of time now!
Exact Ingredients In The VS1 Teeth Whitening Pens
Let's make one thing clear, although the ingredients have not been tested on animals and are kosher friendly; they are not natural.
They are synthetically made which is no surprise. Teeth whitening involves reactions between molecules in the teeth for it to be successful.
Natural ingredients such as baking soda or coconut pulling might help with minor stains but they will not change the shade of your teeth. You need stronger substances, and the VS1 whitening kit contains just that:
Carbamide peroxide
Glycerol
Propylene Glycol
Deionized Water
Carbomer
Carboxymethyl
Triethanolamine
Poly Vinylpyrrolidone
Menthol
All of these chemicals may seem scary at first glance, but don't worry. They have been used therapeutically by professionals for years and have many uses.
They all play a vital role in helping to give you that whiter smile. It's not like you're going to be using the kit forever, so any negative side effects will go away as soon as you stop using the kit.
If you were to ask us what the single most important ingredient on the list was, we would confidently say Carbamide Peroxide.
A study carried out by the American Dental Association (ADA) showed that although carbamide peroxide produced slightly more emphatic results initially, ultimately products containing equivalent amounts of carbamide peroxide and hydrogen peroxide produced exactly the same results.
What does that mean?
When choosing a teeth whi​tening product, always make sure the active ingredient is either Carbamide Peroxide or Hydrogen Peroxide.
How To Use The VS1 Teeth Whitening Kit At Home?
Home teeth whitening kits have become so simple to use nowadays it's crazy! Long gone are the days when you could only get dental whitening at the office.
It was also very expensive and still is with prices ranging from $500 to upwards of $2000 depending on the type of treatment you go for.
But thanks to technology, we can all get a whiter smile for a fraction of the price, and it's really easy to do. Just follow these instructions, and in 7 Days you will see some big changes guaranteed:
Brush and floss your teeth to clean the mouth and remove any small particles stuck in between the teeth
Apply the serum by twisting up the wand and applying the gel to each tooth – think of it as painting your nails
Plug the LED light into your smartphone and insert the guard into your mouth for 10-16 minutes
After whitening for the recommended length of time, unplug and remove the light from your mouth. Rinse both the light and your mouth, and presto! You're done
Do this every day until you have reached the desired level of whiteness (usually takes between 7-24 days)
Some Negatives to Consider
One of the main drawbacks or complaints we hear from people regarding teeth whitening are the sensitivity issues they face after using it.
This, however, goes away after a short while.
Several authors specified that sensitivity when present during or after bleaching is a totally controlled adverse side effect that can be managed easily with peroxides that include fluoride in its composition.
It can also be helped by applying potassium nitrate; this situation can be prevented.
Positives
This kit does most things right, and the ratings agree. It has a 4 Star rating which makes it reputable. 
Affordably Priced
We know a couple of competitors who use the same technology as the VS1 system, and their systems are priced at close to $200.
This kit only costs $50, which is a steal. Don't tell us you can't afford to invest this tiny amount to better your smile!
Easy to Use
It's an easy kit to use; even a child could do it. The instructions are self-explanatory and, best of all, it only takes 15 minutes per day.
30 Day Money Back Guarantee!
If you are not 100% satisfied with your purchase, you can return the product and get a full refund or exchange the product for a different one.
You can return a product up to 30 days from the date you purchased it. You can do it through email or ringing them up, whichever is easier for you.
No Harmful Ingredients
There are no unnecessary and harmful ingredients traditionally found in teeth whitening products.
This company has set out to take a cleaner approach, so you don't have to worry. The VS1 Teeth Whitening System is free from:
Sugar
Sulphates
Carrageenan
Alcohol
Triclosan
Parabens
PPG
SLS
What Do Customers Think About the VS1 Teeth Whitening Kit?
We have already touched upon the fact that people who have brought this kit have given it a 5 Start rating (the maximum you can give).
The consensus was the product worked really fast with most saying they saw changes after a couple of tries. Now this isn't the norm because on average it takes around 2 weeks before noticeable changes are seen.
So don't go buying this thinking you will get white teeth immediately. It could happen but most likely it will take some time. 
Of course there were some negative reviews too which isn't surprising because not everyone see the results they want.
The most critical reviews stated that the product just simply did not work for them. There was no effect after using the kit for 7 days straight.
A few mentioned the LED activating light did not turn off after 10 minutes, rather it kept going which isn't normal. This was most likely due to a malfunctioning unit which can unfortunately happen from time to time. 
However because the kit is relatively cheap, you won't be breaking the bank and if it happens to not work, you have the 30 day money back guarantee to fall back on :) 
Final Thoughts
Teeth whitening is a major part of our oral health with so many people looking to whiten their teeth. It's made possible by the advances in technology and easy to use kits.
Hopefully, this VS1 Teeth Whitening Kit Review has given you all the information you need to make a decision if it's the right fit for you.
It's basically a LED whitening kit and all you need to do to get a white smile is apply the gel serum onto your teeth and insert the mouth guards into your mouth and leave it for 15 minutes. That's it!
Do this for 7 days straight, and you will see some dramatic changes, but if for some reason you don't get the results you were after, there is a 30-day Money back guarantee to give you that extra piece of mind.
Head Over To Amazon And Place Your Order Now
VS1 Teeth Whitening Kit F.A.Q
Q. Does VS1 whitening cause sensitivity?
A. VS1 does not cause the sensitivity that other systems may cause. This is thanks to its unique and proprietary serum.
Q. Can I whiten my teeth even if I have some fillings?
A. Yes. This teeth whitening kit is also beneficial for those with fillings.
Q. Can my kids use your products?
A. Yes, the products are kid friendly for kids of all ages. The age of when they start is your choice!
Q. Does the serum or powder expire?
A. Once open, it should be used within 6 months. We recommend keeping the product dry, cool and out of the sun. There is no need to store the serum in the fridge.
Q. Is this kit safe to use?
A. Yes, using VS1 is safe and as long as you follow the plan. VS1 don't use dangerous chemicals and never test on animals.
Q. What happens if I get the serum on my lips or gums?
A. Wipe it off as best and as soon as you can. VS1 is meant to be used on your teeth only. 
Related Articles
Cali White Teeth Whitening Kit Review
Crest 3D White Whitestrips Light Review
Mobile White Teeth Whitening Reviews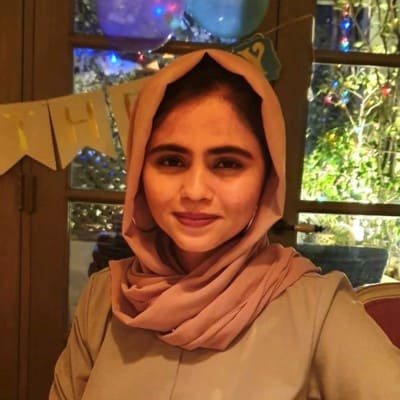 A qualified Dentist who holds the BDS, RDS qualification. When she's not helping patients with their oral health, you will find her on here writing topics on various dental issues. Her deep passion for writing makes her happy and fulfilled.