This kit seriously works!
I've tried just about everything, and this is by far the least painful and most effective.
I'm about to get married, and nothing was whitening my teeth. I drink so much coffee, and my teeth are a bit crooked in some places.
Whitening strips left my teeth looking dingy, especially in those places where they're uneven. 
We've been saving everything for our wedding so didn't want to spend too much on teeth whitening, but I was starting to think I needed to go to the dentist to truly get somewhere.
I did some research and found out that iSmile Teeth Whitening Kit uses similar amounts of carbamide peroxide as the dentist would, which is impressive because it's way less expensive and less painful than professional whitening.
The package also includes this mouthpiece that lights up your teeth while you are using the whitening gel. The blue LED lights help to amplify the carbamide peroxide while the red LED lights help to protect from sensitivity.
When I'd tried whitening strips in the past, I'd always end up with sore teeth and gums for days after using them. It's been a relief to use something effective that doesn't cause me any pain.
If you're interested, you should head on over to Amazon to order your kit.
Not sure if it works?
Read the full iSmile teeth whitening kit review to see if it's truly for you:
Who Should Use The iSmile Teeth Whitening Kit?
The people best suited to this kit are those with sensitive teeth, older teeth stains and a busy routine, or whose teeth aren't perfectly straight
(and let's be honest, whose are?). 
I had braces when I was younger, but my teeth have moved slightly since then.
My fiancé says he can't tell that a few of my teeth are crooked, but the stains in the corners are dead giveaways. What I love about iSmile Teeth Whitening Kit is that the LED mouth guard reaches places whitening strips cannot.
Plus whitening strips leave my teeth achy for the entire time I've got to keep them on which is usually 30 minutes or so.
For days after, I can't drink cold water without cringing. The iSmile kit only takes 15 minutes and doesn't hurt at all.
The only people who shouldn't be using this are:
those under the age of 16, 
women who are pregnant or breastfeeding,
people whose dentists have advised against at-home whitening treatments
people with veneers or dentures.
iSmile is totally safe and won't damage your dental work, but it might whiten unevenly on anything other than a natural tooth.
Features Of iSmile Teeth Whitening
The LED mouthpiece 
Makes all the difference. I'd seen the LED trays in other whitening products, but those kits can be even more expensive than the dentist. Plus I have limited bathroom space, and those methods usually come with a million wires and accessories
iSmile was different. It comes with one cable that you can plug into your phone or computer. I plug it into my phone and scroll through Instagram for 15 minutes while it works its magic.
The light amplifies the professional levels of carbamide peroxide and reaches even the weird places my teeth are crooked.
Every step has built-in methods of preventing sensitivity. Hydrogen peroxide is a component of carbamide peroxide and one of the best ways to whiten your teeth, but using too much for too long can strip your enamel.
The remineralization pen
Is full of everything your enamel needs to stay healthy and strong. The LED mouthpiece has a red light. The remineralization pen keeps your enamel healthy, but there's another layer of the tooth below your enamel that causes sensitivity. 
It's called the dentin. The infrared wavelengths help speed up the regeneration process in dentin. When you use iSmile, you're actually repairing your teeth while you whiten.
Only takes 15 minutes…
A night to see a change. I do not have the time to spend 30 minutes in agony for my teeth to get a fraction of a shade lighter. 
When I came home at night, I wanted to relax, not cycle through an endless beauty regimen. I needed a teeth whitening treatment that worked in my busy schedule.
iSmile Teeth Whitening Kit was finally what fit into my routine. Nothing else works better in 15 minutes.
If you're like me and don't have time for whitening methods that don't work, try iSmile teeth whitening kit now.
How To Use The iSmile Whitening Kit?
Clean teeth before applying.
Apply a thin coat of whitening gel to the surface of your teeth avoiding your gums.
Insert LED mouthpiece and connect to power source.
Wait 15 minutes until the lights turn off AUTOMATICALLY.
Rinse your mouth with cold water and apply a thin layer of Remineralizing Gel on your teeth.
Enjoy your whiter & brighter teeth!
What Do Dentists Say About How This Works?
There are two main whitening agents in most teeth whitening products: carbamide peroxide or hydrogen peroxide.
Carbamide peroxide is similar to hydrogen peroxide. In fact, carbamide peroxide is made up of about one-third of hydrogen peroxide. They work similarly to release stains from your enamel and dentin, but carbamide peroxide is more gentle than hydrogen peroxide for the same results. 
According to WebMD, most at-home whitening kits contain between 3% and 20% peroxide. While most in-office treatments provide between 15% and 43% peroxide.  
Along with the peroxide, in office treatments will usually include heat or light treatments to enhance the use of the peroxide.
iSmile teeth whitening kit contains 43% carbamide peroxide and uses blue and red LED wavelength technology to amplify the peroxide and stimulate your dentin to regenerate.
Like most whitening systems, iSmile Teeth Whitening Kit is targeting the dentin, not the enamel. Even though it is extremely important, our enamel is mostly translucent, and the bulk of the colour of our teeth comes from the dentin.
Both the enamel and the dentin beneath are notorious for causing teeth sensitivity, but other kits tend to only focus on repairing the enamel.
That might be, in part, because dentin is almost always regenerating itself as it is, but stimulating your dentin with red LED wavelengths helps to restore it faster. 
With iSmile teeth whitening kit, your dentin has fewer stains and more power of regeneration, saving you from sensitivity.
As you strip the stains off, you're replenishing your teeth with new minerals for your enamel and more healing power for your dentin.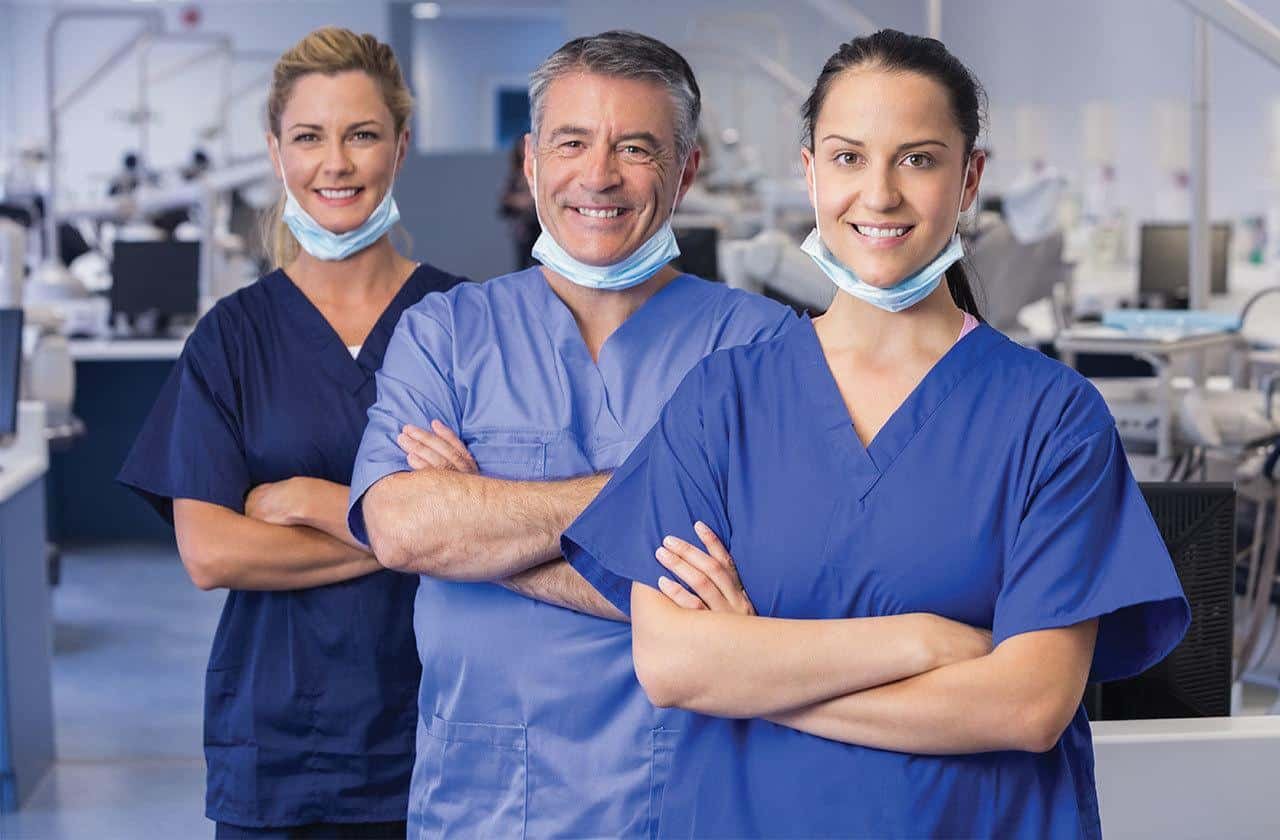 The Pros
Results after the first treatment.
It protects from sensitivity on all fronts.
It heals your dentin as it works.
It reaches the spots where teeth are crooked.
It uses professional strength carbamide peroxide.
The LED mouthpiece is super easy to use. No moulding required.
It's less painful and less expensive than whitening at the dentist.
It's less painful and more effective than whitening strips.
No mess.
No weird aftertaste (tastes like peppermint)
The kit comes with a chart to help you track your progress as you whiten.
Dentists recommend it.
It's cruelty-free and vegan.
It prevents tooth decay and reduces sensitivity by strengthening your enamel and dentin.
It takes less time than whitening strips to see results.
The Cons
This kit is not just a whitening strip. It's a new treatment system for your teeth. It doesn't take much time, but you do have to put in the full 15 minutes a night.
You have to be diligent with it. I saw results every time I used it, but I had to use it for the full 10 days to thoroughly whiten my teeth.
It's a little more expensive than whitening strips, but it's worth it not to deal with the pain, and to see results quickly.
The mouthpiece is one size fits all and feels a little awkward in my mouth, but works well anyway.
What Do Customers Think Of The iSmile Teeth Whitening Kit?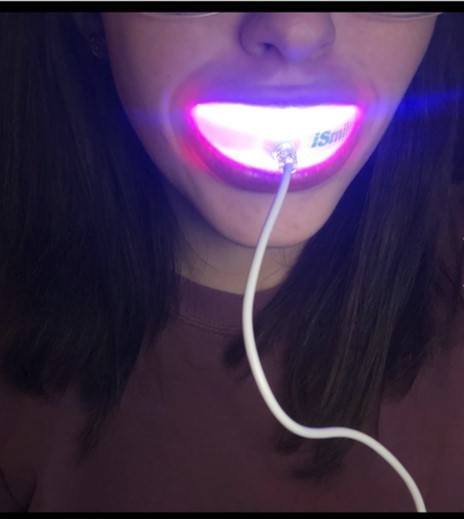 Looking through iSmile Teeth Whitening Kit reviews on Amazon is pretty impressive. They are overwhelmingly positive. 
Most people felt the same way I did. A couple of people were a little intimidated by the kit because they'd only ever tried strips and had never invested in a treatment system, but they also found it to be well worth the results. 
Two or three others had also dealt with whitening strips unevenly whitening the places where their teeth were crooked, but finally found success with the carbamide peroxide along with the LED light tray.
A few older purchasers commented on how it was the only system that got rid of some of their older stains. Others were talking about how little mess there is involved.
One of the most common things you see in the reviews is comments on how gently iSmile whitens. There are so many people talking about how sensitive their teeth were when they tried to whiten.
They're all commenting on how they experienced 0 sensitivity with iSmile. It makes total sense to me after doing the research.
First of all, most whitening systems use hydrogen peroxide, which is much harsher on your enamel. iSmile uses carbamide peroxide, which is gentler but has the same whitening effects.
And with the red LED lights built into the mouthpieces, iSmile isn't just whitening your teeth: 
It is replenishing your enamel and dentin as it works!
Conclusion
So there you have it folks, in this iSmile teeth whitening kit review we have given you every little detail there is to know about this product.
It is a teeth whitening regimen that only takes 15 minutes and whitens your teeth with no pain or mess. All you do is brush on the whitening gel, plug in the LED mouth guard into your phone or computer, and scroll through Instagram while you whiten. 
After 15 minutes, the mouthpiece will automatically turn off. Then, you brush on the remineralizing gel. It's as easy as that.
It contains 35% carbamide peroxide, which is professional grade!
The wavelengths from blue LED light in the mouth guard amplify the effects of the carbamide peroxide without adding more, harsh hydrogen peroxide, which can be harmful to your enamel.
The red LED wavelengths promote regeneration in your teeth's dentin, and the remineralization pen replenishes your enamel. That means you're not only fighting tooth sensitivity on all fronts while whitening — you're actually healing your sensitive teeth.
If you're serious about whitening your teeth while keeping them healthy, you have got to go get your iSmile Teeth Whitening Kit Now.
iSmile Teeth Whitening Kit F.A.Q
Q.How do you turn on the LED mouth guard?
A. The mouth guard comes with plugs for either a smartphone or USB port. Plug the mouthpiece into either. The light will come on and stay on for exactly 15 minutes. So, you know how long you need to keep it in.
Q. How long should I keep the whitening gel on?
A. You should use it for 15 minutes a night for 10-14 days to see the best results.
Q. Can I use the LED mouthpiece after I'm all out of the whitening gel?
A. For best results, you should use the mouth guard along with the gel. However, you can buy refills of both the whitening gel and remineralization pen on Amazon to use with the mouth guard you already have.
Q. When should I get refills?
A. Depending on your habits, you should get new refills every 2-5 months. Coffee, dark sodas, tea, wine, and smoking all cause stains to form faster. So, depending on how much you use things like that, you might need refills sooner.
Q. Where can I buy refills?
A. All iSmile Teeth Whitening Kit products, including the refills, can be found on Amazon.
Q. What does the whitening gel taste like?
A. All of the whitening gels and refills have peppermint oil in them. So, you never get an odd aftertaste.
Q. Can I use it while I'm pregnant?
A. Like most teeth whitening kits, iSmile is not recommended for women who are pregnant or breastfeeding. Using hydrogen peroxide or carbamide peroxide may be harmful to your baby.
Q. How old do I have to be to use iSmile?
A. No teeth whitening regimen is recommended for people under the age of 16.
Q. What is in the whitening gel?
A. The whitening gel contains a 35% solution of carbamide peroxide gel, glycerin, and urea.
Q. What does the LED mouth guard do?
A. The mouth guard is meant to both gently amplify the carbamide peroxide with the use of blue wavelengths and regenerate your teeth's dentin by using red wavelengths.
Q. Is iSmile safe for my enamel?
A. Yes, everything in the whitening gel is proven to be a safe way to whiten your teeth without causing sensitivity.
Q. How long do the gel and syringe refills last?
A. Each syringe contains enough gel for 5 treatments.
Similar Kits
Related Post: Complete Asavea Teeth Whitening Pen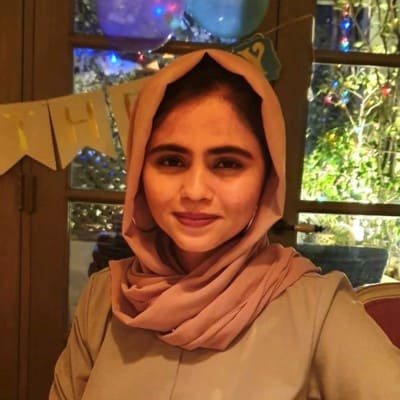 A qualified Dentist who holds the BDS, RDS qualification. When she's not helping patients with their oral health, you will find her on here writing topics on various dental issues. Her deep passion for writing makes her happy and fulfilled.