The entire oral hygiene regime feels like a difficult exam that you have to pass every day!
Brushing and flossing twice a day or after every meal sounds like a healthy practice but getting into a routine is difficult.
What if there was a tool that had everything in one place, i.e. a brush and a flossing mechanism for your convenience?  
Waterpik Complete Care 9.0 has got you covered!
A revolutionary invention that personifies "less is more". Waterpik Complete Care 9.0 Sonic Electric Toothbrush and Water Flosser brings to you so much more than you wished for.
It's time to get rid of the toothbrushes with frayed bristles and tangled bits of dental floss!
Your Waterpik Complete Care 9.0 with advanced features and better performance than its competitors is now just a click away!
Who Is Waterpik Complete Care 9.0 Sonic Electric Toothbrush and Water Flosser For?
Waterpik Complete Care 9.0 Sonic Electric Toothbrush and Water Flosser is a unique product that is useful for people who hate brushing and flossing. It will definitely make your oral routine simpler.
It holds an additional attraction to those who love trying the latest technology and electronic gadgets.
People with overlapping teeth, misalignments can benefit greatly as the water flosser can easily get into those difficult to reach spots which contain food debris and plaque.
It's also a great choice for people with braces who find brushing and flossing difficult.
Children under the age of 7 should be supervised whilst using this machine, especially the water flosser as the pressure released can be high and could cause irritation to the gums.
Powerful Features Of The Waterpik Complete Care 9.0
Smaller Size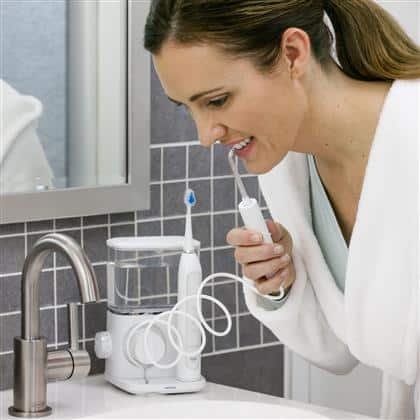 When it comes to dental care gadgets, it's hard to find a system that looks small and performs big.
Now you can get the same amazing system but in a form factor that is compact than earlier models.
With the need for just one outlet, it barely requires any counter space because of its new ultra-compact design. The size is 4.4d x 5.25w x 10.25h in inches and it weighs just 1.57 lbs.
Swivel Handle and Magnetic Cradle
With its latest magnetic structure, it efficiently holds the water flosser, hose and swivel handle. This makes it easy to reach all the areas of the mouth.
It also consists of a fixed dock which recharges the toothbrush. Moreover, it includes a pressure control button to alter the water flosser pressure.
Electric Toothbrush With Three Modes
The remarkable rechargeable sonic toothbrush comes with three modes: cleaning, whitening, and massaging.
Its 2 Triple Sonic Brush Heads (STRB-3WW White or STRB-3WB Black) have a high/low bristle pattern with an integrated tongue cleaner which eliminates plaque and prevents tooth decay.
Now you don't have to keep an eye on the stopwatch just because your dentist asked you to brush for exactly 2 minutes!
The toothbrush has a 2-Minute Timer with 30-Second Pacer built in.
10 Water Pressure Settings
It comes with 10 water pressure settings that you can choose according to your comfort with 1 being the least and 10 being the maximum pressure setting.
It's a good feature because some people have very sensitive teeth and gums. Blasting a high powered stream of water is the last thing they need.
In fact we recommend everyone starts at the lowest setting and work their way up to the setting that's most comfortable.
Handle With Built-In Water Controls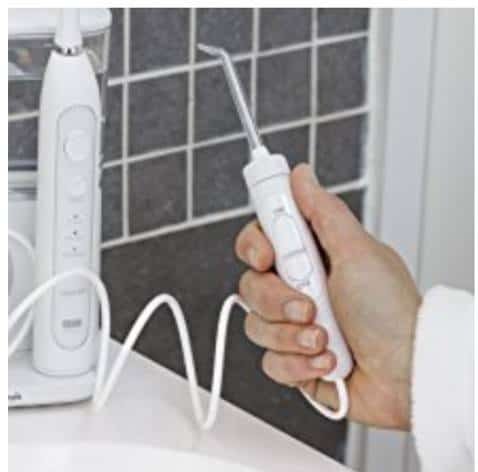 You can now control the water and turn it on or off by simply sliding your finger on the handle.
This is more convenient than reaching for the actual unit because the water jet coming out of the flosser is powerful and the water can spray all over the place if your not careful.
Pros
Makes brushing and flossing convenient and enjoyable.
Saves counter space and power outlets due to its compact design.
Removes 99.9% plaque and helps prevent tooth decay and future dental work.
Rechargeable Triple Sonic Toothbrush with 3 modes: cleaning, whitening, massaging.
Whitening mode is clinically proven to remove up to 9X more stains compared to a regular toothbrush.
Comes with 5 water flosser tips, 2 brush heads, toothbrush travel case, tip storage case, and 2-year warranty.
Water flosser goes deep between the teeth and below the gumline to fight plaque and debris efficiently.
Cons
If you have limited sink space, this kit will take up most of it and make your sink look cluttered. Hence why it is not suitable for a small bathroom sink counter top.
It can be inconveniently noisy and can disturb others when you're busy enjoying it. Not recommended for parents of babies with difficult sleep patterns.
There is only one brush head for each mode. If you are sharing with your partner, you'll have to buy the entire unit again.
Customers Reviews Of Waterpik Complete Care 9.0 Sonic Electric Toothbrush and Water Flosser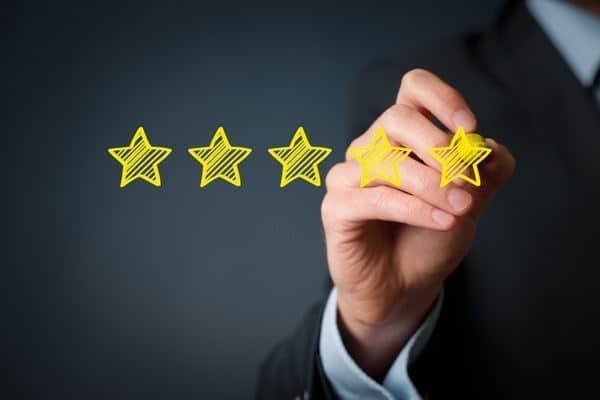 Waterpik Complete Care 9.0 has received rave reviews from numerous satisfied customers. People with teeth and gum issues have seen a remarkable change in the appearance of their smile in just a few weeks.
Customers love the fact that the Waterpik Complete Care 9.0 has integrated into their entire oral hygiene routine effortlessly. People are now brushing for the recommended 2 minutes (something they admitted not doing previously).
Some customers had second thoughts about buying this product, the main concern was the unit would be too big and would take too much space on the bathroom countertop.
This unit has been redesigned to be more compact and now fits seamlessly into most bathrooms, unless your bathroom counter is small, then you might want to think about other smaller options.
Some customers suggested the lips must be sealed when the toothbrush is doing its work, otherwise you can expect a mess in your washroom.
People who have already used this unit recommend filling the tank with warm water if you have sensitive teeth. Users have also suggested that extra care should be taken while pointing the flosser towards the throat.
The toothbrush can get overcharged if you leave it in the holder for long periods which results in a reduced life.
Alternatives
Summary
If you haven't found the perfect electric sonic toothbrush and water flosser yet, we recommend you take a look at the Waterpik Complete Care 9.0.
Treat your teeth and gums with this product today!
It offers you everything that you need and then some more! 
3 different brushing modes gives you the option to change things up depending on your situation. Maybe one day your gums are sore in which case the sensitive mode will be great.
Another day you might want to add an extra shine to your teeth in which case you can opt for the whitening option.  
There is also a 30 day money back guarantee and 1 years warranty if you encounter any problems.
If your ready to invest in your teeth and gums for the long term then head over to Amazon and get your Waterpik Complete Care 9.0 Now
Waterpik Complete Care 9.0 F.A.Q
Q. How effective is it in comparison to a manual toothbrush and floss?
A. Honestly there's no comparison because Waterpik Complete Care 9.0 Sonic Electric Toothbrush and Water Flosser surpasses its manual counterparts in every way.  
A normal toothbrush would fail terribly to provide the same level of cleanliness as the sonic electric toothbrush does. The water flosser has been clinically proven to be 50% more efficient than regular string floss.
Q. Is it recommended for people with braces, implants, or veneers?
A. It is perfect for people with braces, dental implants, artificial crows, partial or full dentures, dental bridges and veneers.
Q. What's included in the system?
A. You get:
2 Classic Tips (JT-100E) meant for general use
1 Orthodontic tip (OD-100E) to be used with braces and orthodontics
A Plaque Seeker (PS-100E) to facilitate brushing implants and other dental work
1 Pik Pocket (PP-100E) for periodontal pockets
A tip Storage Case
2 Triple Sonic Brush Heads (STRB-3WW White or STRB-3WB Black). 
Premium Toothbrush Travel Case so that you can carry your toothbrush wherever you go.
Related Articles
Waterpik Sonic Fusion Flossing Toothbrush Review
Waterpik Wp-660 – Is It The Best Waterpik On The Market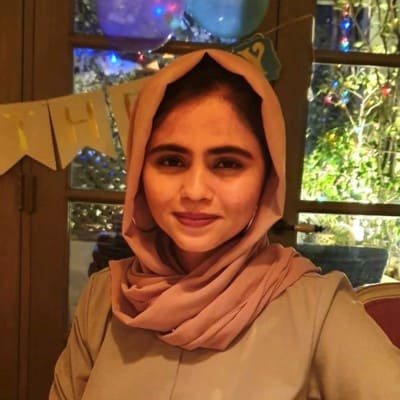 A qualified Dentist who holds the BDS, RDS qualification. When she's not helping patients with their oral health, you will find her on here writing topics on various dental issues. Her deep passion for writing makes her happy and fulfilled.