Do you want to live your healthiest life without devoting all your time to it?
I think I have the tool to help you achieve your goals. You should try the Waterpik Sonic Fusion Flossing Toothbrush. It's not just about making your smile brighter and your breath fresher (though, it inevitably will). It's about how this toothbrush feels.
Our Score
THE TOOTHBRUSH THAT FLOSSES FOR YOU: The Waterpik Sonic-Fusion Professional flossing toothbrush combines the power of an advanced sonic electric toothbrush with the proven effectiveness of the Waterpik Water Flosser.
3 MODES: At the touch of a button you can brush, floss, or do both, making it easy to complete your oral care with one convenient device. It's clinically proven up to 2x as effective as traditional brushing and flossing for reducing plaque and improving gum health.
DENTIST RECOMMENDED: 9 in 10 dental professionals recommend the Waterpik brand. Waterpik is clinically proven and the first water flosser brand to earn the American Dental Association (ADA) Seal of Acceptance.
KEY FEATURES: The rechargeable handle charges in the base and includes a 2-minute brushing timer with 30-second pacer, 2 toothbrush speeds, and recharge indicator; the built-in electric water flosser includes 10 pressure settings (10-100 PSI).
INCLUDED: Sonic-Fusion 2.0 Professional Flossing Toothbrush, 16 oz removable reservoir for easy cleaning and filling, 2 flossing brush heads (1 compact, 1 full size), 2 brush head covers, toothbrush travel case, global voltage 100-240 VAC, 50/60 Hz.
If you've ever used a waterpik or water flosser, you know how good it feels. This toothbrush has a built in waterpik that flosses while you brush by shooting a gentle stream of water between your teeth. 
Over time it will stop your gums from bleeding
I know I rarely make time for flossing even though I know how beneficial it is. It's because it has always been an uncomfortable process, time-consuming and causes so much irritation.
It is such a hassle.
I really should be making time for flossing, and with this tool I can now meet mine and my dentist's goals. It brushes and flosses at the same time and leaves your mouth thoroughly flushed out.
We all know that the right toothbrush is important. It's the first defence against nasty smelling breath and yellow teeth, but flossing is also important.
Just over 30 percent of the population flosses every day. That's nuts! There are so many health benefits to flossing.
Of course, it controls bad breath, gingivitis, receding gums, and yellow teeth, but there are a whole host of health benefits that effect other systems in your body.
Flossing is the first defence against bacterial infections in many places in your body. Your gums lead straight to your bloodstream, meaning if your gums are clean, your body is clean!
If you have a hard time flossing, but want all these amazing health benefits, you need a piece of equipment to help you reach your goals.
If this sounds like the best of both worlds to you too, you should head over to Amazon and order yours today!
Who Is The Waterpik Sonic Fusion Flossing Toothbrush For?
This amazing tool is for anyone who has trouble with flossing in their regular routine. If you're fed up with not reaching your healthy lifestyle goals and want to up your oral hygiene game, this tool could really help you achieve this.
It's for anyone struggling with bad breath, yellow teeth, or receding gums. This isn't just a cosmetic device; it is very much about revolutionizing your mouth health from the ground up.
Any dentist will tell you that being diligent with flossing and brushing will make your teeth healthier. This is a tool that helps you reach you and your dentist's goals. It is such a practical tool for helping you be the healthiest version of yourself.
Top Features
It Puts Flossing Back In Your Routine
You can't undersell the importance of flossing. From whitening your teeth to preventing gum disease, flossing is the key to our oral hygiene that we all neglect.
But did you know that flossing can prevent even bigger health problems?
The same bacteria that cause your breath to smell bad and your teeth to yellow can enter your bloodstream through your gums.
Keeping these bacteria to a minimum by flossing and brushing with a great toothbrush can help prevent bacterial infections like pneumonia and even make your circulatory system healthier preventing heart disease.
It Saves So Much Time
The reason most of us aren't taking advantage of these amazing health benefits are simple: it's uncomfortable and it takes time. Our lives today don't revolve around our health and it often goes un-cared for.
Having the right equipment can make all the difference. The waterpik in combination with the electric toothbrush is a perfect time-saving solution.
No more taking time to make your poor gums bleed. The waterpik's firm stream of water is gentle and effective. It completely takes the discomfort out of the flossing process. The vibrating toothbrush takes it all the way home with a professional-feeling clean.
It Saves Space On Your Bathroom Counter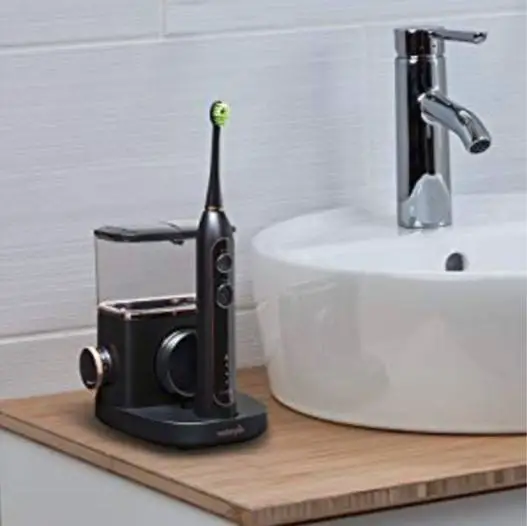 Everyone loves a good flossing with a waterpik and brushing with an electric toothbrush, but not everyone has the space on their bathroom counter to keep both.
You could keep them beneath the sink, but if you're anything like me you won't remember to use it unless you see it.
One of the best things about The Waterpik Sonic Fusion Flossing Toothbrush is it doesn't take a vast amount of space on your bathroom counter top.
People love the fact they can use just a few inches of counter space and one plug to make themselves the healthiest people they can be.
Pros
It takes up very little space on the counter.
You can choose the water pressure.
It cleans bridges, permanent retainers, and braces like a professional.
It saves you time.
It gives you two hygiene benefits for the time and space of one.
Whitens teeth gradually
It prevents bad breath
It helps to prevent gingivitis.
Cons
Multiple customers do complain about the high-pitched noise it makes.
The brush does not oscillate. It is only a vibrating toothbrush.
It is messy the first few times you use it.
Customer Thoughts On The Waterpik Sonic Fusion Flossing Toothbrush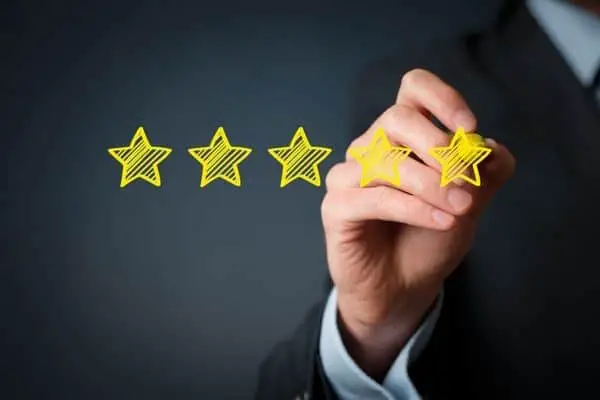 People are talking again and again about how much using this new kind of tool feels like a professional cleaning. They are reporting their breath being fresher than ever after the first time using it. Their teeth are whiter after just a week or so of using The Waterpik Sonic Fusion Flossing Toothbrush.
Those with braces, bridges, or permanent retainers are especially impressed by the feel of the clean. Most people love the look and professional heavy feel of the equipment.
Customers who bought The Waterpik Sonic Fusion Flossing Toothbrush love how little space it takes on the bathroom counter compared to both a waterpik and electric toothbrush. A few people with disabilities like Cerebral Palsy rave about how much easier this tool made their oral hygiene routines.
Customers also love how easy it is to change the water pressure on the waterpik. More than anything, customers are relieved at how easy it has become to incorporate flossing into their daily routines. Their teeth are whiter, their breath is fresher, and they are living their healthiest lives more easily with this amazing tool.
This is a new kind of oral hygiene tool and it does take some getting used to. Be careful!  It may get a bit messy your first few times using it, but don't worry. Everyone gets the hang of it in time. There does seem to be a learning curve with this new tool. Some people find it helpful to close their mouth at first while they brush and floss as to not get sprayed.
Some people do not like that the flossing component dilutes their toothpaste. To avoid this, you'll want to brush with your toothpaste for the first few seconds before you turn the waterpik on so that you don't dilute your toothpaste too much.
You can still brush while you floss with the waterpik, just take the first few seconds to brush on the undiluted toothpaste before you begin flossing. It is messy until you get the hang of it.
The rest of the customers who reviewed this product talked about how much healthier their lives feel. A thorough oral hygiene routine doesn't just change the brightness of your smile, it changes your life.A beautiful smile gives these customers the confidence they need to tackle their busy lives. Anyone, no matter how busy, can add the amazing health benefits of flossing into their daily routines without devoting all their time to it. This tool is a no-frustration, zero hassle healthy lifestyle machine that everyone seems so glad to have added to their oral hygiene toolbox.
Final Thoughts
Be the healthiest version of yourself, go to Amazon now and get your Waterpik Sonic Fusion Flossing Toothbrush.
Without this amazing tool, we might all continue to avoid the vital but irritating act of flossing. The longer we don't make time for our oral hygiene, the faster the colonies of bacteria are moving into the neighbourhood.
Not only are they infecting our mouths, but our new neighbours are also making us more susceptible to upper respiratory infections and increasing our chances of heart disease.
But we don't need to change up our whole routine to reach our goals. We just need the right tools to achieve them. This waterpik toothbrush hybrid is exactly the tool you need to live your healthiest lifestyle possible in the most efficient way possible. 
Flossing with Waterpik Sonic Fusion Flossing Toothbrush feels so satisfying while you're brushing. You never get bleeding gums or odd lines around your fingers and you never have to spend more time than it takes to brush your teeth.
Even though it does have a bit of a learning curve and can be a tad messy at first, it's worth it!
Customers who bought it love the sleek look of this tool. It's heavy and feels very substantial in your hand. One of the best things about this tool is that it saves so much space on your bathroom sink.
It is truly a 2 in one oral health devices. If you have a permanent retainer, bridge, or braces, the electric toothbrush and waterpik combo will completely change your life. It feels so good and reaches all the places you can't get to using conventional methods.
You won't believe what comes out of those hard-to-reach places. It's gross to think about what was hiding between your teeth before you had the proper tools to extract it. But with The Waterpik Sonic Fusion Flossing Toothbrush, you'll have all the tools to keep your crevices clean.
Your oral hygiene routine will go from irritating to amazing with this one tool.
https://youtube.com/watch?v=fr8uVNbFtMk
Waterpik Sonic Fusion Flossing Toothbrush F.A.Q
Q. The Waterpik Sonic Fusion Flossing Toothbrush is spraying me when I use it. How do I make this stop?
A. This is a new type of oral hygiene tool. Not just a new toothbrush. It can take some getting used to. Some customers report it is helpful to close your mouth while you're using both the flossing and brushing mechanisms until you get the hang of it.
Q.The waterpik is diluting my toothpaste before I can get it on my teeth. How do I stop this?
A. You can stop diluting your toothpaste by brushing it on your teeth for the first ten seconds before you turn the waterpik on. Then you'll have plenty of paste to go around and you can get that toothpaste between your teeth using the water stream.
You're still brushing and flossing at the same time. Brushing on the toothpaste will only take 5-10 seconds.
Q. Can I add mouth wash to the water reservoir?
A. Yes, just make sure the mouthwash doesn't have any water-insoluble essential oils in the ingredient list and instead use alcohol to clean your mouth.
Most mouthwashes that aren't advertising as organic don't include essential oils. The oil in essential oils can clog up the tool and prevent the waterpik from working correctly.