Let me get straight to the point and tell you why you should buy Active Wow Teeth Whitening Charcoal Powder Peppermint Flavor:
Our Score
NATURAL WHITENING TOOTHPASTE CHARCOAL POWDER - Activated charcoal teeth whitening powder is a natural way to whiten your teeth. Active Wow's charcoal powder is made with organic ingredients in the USA
WHITENING COCONUT CHARCOAL - Our refined organic coconut charcoal for teething whitening is fast, easy to use and helps to eliminate the stains caused by coffee, wine, and other foods
REMINERALIZE WITH BENTONITE - Active Wow's teeth whitening powder is made with bentonite, which helps rebuild enamel. Minerals in bentonite clay provide a basis for this remineralization
THREE SIMPLE STEPS - Brush, rinse, & chill. Do this as often as needed; some people see results in just a few uses! Easier than whitening strips, just brush like regular toothpaste!
ABOUT US - Active Wow started with one goal in mind – to help spread happiness through smiles. We exist to help give you the confidence you need to show-off that naturally beautiful smile
The simple answer is that:
On Amazon alone it has over 17,500 reviews with 75% of them being 5 stars with an average of 4.5 stars out of 5. That is huge by any standards and tells us this product WORKS most of the time for most of the people.
Another reason is the Peppermint flavor it comes in. Peppermint oil possesses a fresh sharp menthol odour and a pungent taste followed by cooling sensation. It has some serious therapeutic properties and is used in toothpastes because of it's antibacterial properties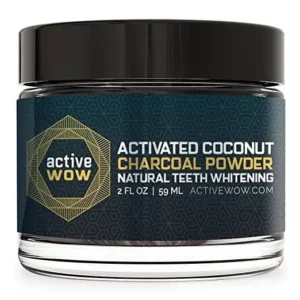 This form of whitening is way cheaper than tooth whitening kits and don't get me started on dental whitening procedures, the cost can be eye watering. It also uses natural ingredients to gently whiten the tooth while some whitening products use harsh chemicals that can actually be Dangerous if caution is not given.
But of course there is much more detail to go into for you to even consider it as a potential buy, which is why in this article we are going to go into brutal depth about the active wow tooth whitening powder. So grab a coffee and sit down because this is going to be a long one:
Features
Ease Of Use – This is by far the easiest whitening method we have come across, it's basically brushing your teeth as you normally would but with the added benefit of obtaining whiter teeth over a short period. All you have to do is moisten the bristles on your brush and then dip it into the charcoal powder and brush for 2 minutes. Simple!
Natural Products – Active wow has such a high reputation because of the quality sourced ingredients they use within their whitening formula:

Activated Coconut Charcoal Powder – Charred coconut sources are known to be the purest forms of charcoal that are physically available. It works by attaching itself to the stains that cause discoloration of the tooth.
Orange Seed Oil – Has anti inflammatory and antiseptic qualities that help improve oral health by getting rid of irritation of the gums and also reduces the bacterial population in your mouth.
Bentonite – composed of ash made from volcanoes. The largest known source of bentonite clay is found in Fort Benton, Wyoming. It is effective in drawing out toxins from the body and is also known to have an abundance of minerals including calcium, magnesium, silica, sodium, copper, iron and potassium.
Benefits Of Brushing Teeth With Charcoal
If your teeth have become stained from coffee, tea or wine then there's still hope for you to whiten them because they are extrinsic stains which can be reversed.
Activated charcoal helps whiten teeth by changing the pH balance of the mouth, making it more alkaline. It also helps prevent cavities, bad breath and gum disease.
Activated Charcoal is also odourless and tasteless which makes it a really useful ingredient in tooth whitening products, mixed with a natural flavouring like Peppermint means it tastes as good as all the toothpastes available on the market.
What's The Chemistry Behind It
Activated charcoal has a negative electrical charge that attracts positively charged molecules. Toxic compounds and gases are positively charged which get absorbed by charcoal. It can also trap free radicals that are roaming around inside your body.
Because it is porous by nature it increases the capacity to trap more of the unwanted particles and the best thing about it is that it cannot be absorbed by the human body which allows it to transport the toxins out of the body through waste matter (urine, stool)
It is tricky though, because there has not been any real concrete research or evidence suggesting it actually whitens teeth but the FDA have approved it's use for many other health benefits. The American Dental Association has not approved any charcoal based treatments for dentistry yet either.
It's only through observation that we can say that using charcoal powder is in fact effective for whitening. It's effective in absorbing plaque and other compounds that stain tooth. It does not neutralise toxins but rather, binds to them which gives you whiter teeth.
What Ingredients Are In Active Wow?
Organic Coconut Charcoal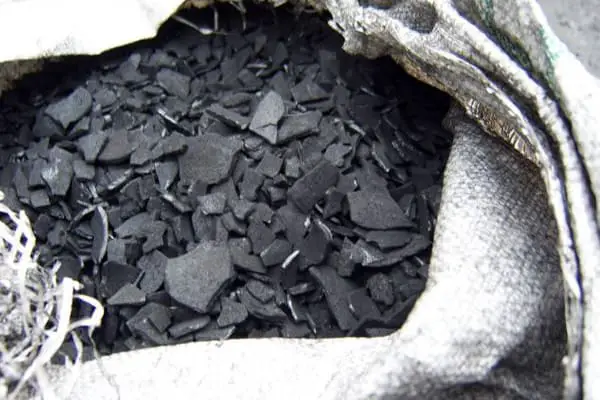 The powder is produced from coconut shells and becomes active when high temperatures combine with a gas or activating agent to expand it's surface area. It works by trapping toxins and chemicals in it's millions of tiny pores and whitens tooth by absorbing plaque and microscopic particles that stain tooth.
Bentonite
Bentonite is composed of ash made from volcanoes. The largest known source of bentonite clay is found in Fort Benton, Wyoming. It is effective in drawing out toxins from the body. It's also known to have an abundance of minerals including calcium, magnesium, silica, sodium, copper, iron and potassium.
Orange Seed Oil
Derived from the seeds of the Citrus aurantium dulcis fruit, orange seed oil can be used in cosmetics and other personal care items. Orange Seed Oil was added as a flavor neutraliser to make Active Wow tasteless. It also has been shown to help with tooth whitening.
Sodium Bicarbonate
Also known as Baking Soda, has been used as a DIY tooth whitener for decades. With regular usage, it has been reported to aid in supporting a healthier oral pH that kills off bad microbes.
Coconut Oil
Coconut oil attacks the harmful bacteria in your mouth. It can reduce plaque buildup, prevent tooth decay and fight gum disease. For these reasons, oil pulling or brushing your teeth with coconut oil can significantly improve oral and dental health.
Peppermint Flavoring
Peppermint oil possesses a fresh sharp menthol odour and a pungent taste followed by cooling sensation. It has some excellent therapeutic properties which makes it a great addition to the final powdered formula that is: Active Wow
Are There Any Side Effects?
Trey Wilson, a dentist from new York city is quite happy for people to use charcoal based toothpaste if they want to achieve a whiter smile. This is because a lot of research is being carried out at the moment about it's results and they are looking positive.
However, he does tell us to be careful and look at signs of tooth sensitivity which should prompt you to stop using it as it could get worse.
Most professionals recommend using activated charcoal toothpaste 2-3 times per week max, even if you don't feel any discomfort or sensitivity.
It's also an abrasive ingredient and if used too frequently, will wear down the enamel on your tooth and could potentially cause gum recession.
So the main takeaway from this is don't use activated charcoal as routinely as normal toothpaste and you should be fine. But it will take some time to see results from this method.
How To Use For Maximum Effect
You might be wondering if there is some sort of complex procedure that needs to be followed to achieve success but im glad to say that it is actually quite simple to use.
Here is a step by step procedure for you to follow:
Get a soft bristled toothbrush and make it slightly damp
Dip the brush into the charcoal powder
Take off the excess powder
Brush your teeth normally for 2-3 minutes
Rinse your mouth thoroughly to remove the charcoal from tooth
Make sure to spit directly down the drain whilst the tap is running to keep the sink clean
Here is a video for you to watch that will make it easier to understand how it works:
What Concerns Do People Have
I have gone on Amazon and read the reviews and the most frequent point that comes up is the:
Mess It Makes!
It's unanimous, it goes all over the place and is a nightmare to clean up which is why we recommend using it in the shower which makes the clean up process much easier and faster.
Here are some other tips mentioned by customers to reduce mess:
Brush with your mouth closed the entire time as it will stop it from going everywhere
Buy a separate toothbrush for this powder because it will turn the brush black no matter how hard you rinse it
Gentle brushing is key, some people get really excited and brush too vigorously which leads to charcoal being lodged into their gum for the whole day (did not look pleasant)
Will It Work For Everyone?
This is another point that pops up quite frequently and to be honest the answer is NO!
It won't work for everyone who buys it but that is to be expected, we are all different people with a slightly different genetic makeup. One thing that works for someone will be totally useless for another.
Here is a perfect example of that:
"This product is easy to use and it's tasteless, but those are the only positives. The black powder gets stuck under my gums even after I floss and brush with toothpaste. It's also a little gritty and made my gums sensitive. The powder under my gums goes away after a while, but the point of using this powder is to make my tooth look better, not give me black and achy gums. And it seemed to get worse the more I used it. It also didn't whiten my tooth at all.
UPDATE: Although this product didn't work for me, it did work for my husband. After only using it three times, his tooth are noticeably whiter. The powder also didn't get stuck in his gums or cause sensitivity. Due to our completely different results, it seems to work, but it's not for everyone. It's worth a try" Published by Jheneya on May 2017.
This review was taken from Amazon which shows perfectly what I said about it working for some people.

It is worth a try though in my humble opinion and don't forget that Amazon have 30 day refund policy so if it doesn't work for you, there won't be anything lost.
Price/Where To Buy
The Active Wow Teeth Whitening Charcoal Powder Peppermint Flavor is currently priced at $21.99 and is available for purchase through Amazon
Amazon is considered one of the safest and most trust worthy online retailers so you should not run into any major problems with them

Pros & Cons
Every product has it's strong features and it's weak points, so Let's see if this product has more positives than negatives?
First Let's look at the Pros
It contains natural ingredients. Unlike other products that have harsh chemicals like bleach or peroxide, this product utilizes the power of activated charcoal
Best sourced ingredients – The charcoal powder is sourced from coconut charcoal instead of hardwood.
Easy to use – This is one of the easiest methods of whitening currently on the market because all you have to do is use it like a normal toothpaste and in a couple of weeks time you should see magnificent results.
Easily removes extrinsic stains caused by regular consumption of wine, tea, coffee and smoking
As well as whitening teeth, charcoal powder can also give you other health benefits such as detoxifying the body and being used as a facial cleanser.
Now Let's take a look at some Cons
Using charcoal can be quite messy because it can stain your clothes and sink if you are not careful when you spit it out.
Activated charcoal is naturally abrasive, and some studies have determined that if used every day, it can potentially damage your tooth's enamel and cause gum recession.
The product can get under your gums if not rinsed thoroughly, which can make them black.
Conclusion
Active wow tooth whitening charcoal powder has been used in medicine to help remove toxic poisons from the body but more recently the benefits of it being used as a tooth whitener have come into practice. To date there have been over 17000 reviews on it with an average of 4.5 stars out of 5, making it a NO.1 Best Seller.
There are some drawbacks to it, such as the mess it makes around the sink area but if you follow the tips we have mentioned above you should be all good. It's also abrasive so be careful not to over use it otherwise you will start to see enamel erosion in the near future.
It costs $21.99 and is available on Amazon but the good thing about it is you get a 30-day money back guarantee if you are not totally satisfied with the product.
I say give it a go and see what happens, you might be surprised :)
F.A.Q
Q. What kind of stains does charcoal toothpaste work on?
A. It works exceptionally well on extrinsic stains that arise from coffee, tea or wine consumption. However, It will not work well on intrinsic stains that are due to age or internal problems.
Q. Is charcoal powder too abrasive?
A. Some dental professionals do get concerned about the abrasiveness of charcoal but as long as you are not using it too frequently you should be okay.
Q. Are there any side effects of charcoal powder?
A. Activated charcoal powder has been used for thousands of years and most dentists have had patients who have stated great results from using charcoal based products.
But there aren't any concrete studies on charcoal powder so the issues regarding it's side effects is still an opened one. The main concern dentists have related to active wow charcoal powder is the potential tooth erosion and the dental deterioration it can cause if used too much.
We hope you have found this review helpful in making your decision. If you are still confused about something or want to ask a question, please leave a comment below and we will get in touch.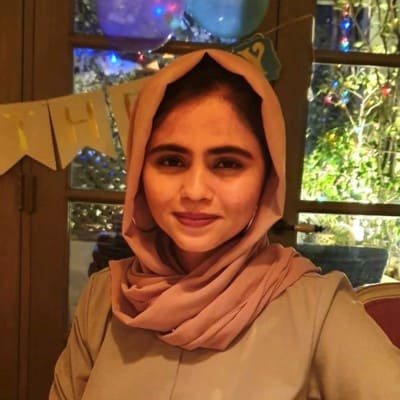 A qualified Dentist who holds the BDS, RDS qualification. When she's not helping patients with their oral health, you will find her on here writing topics on various dental issues. Her deep passion for writing makes her happy and fulfilled.