Why Oral B 5000 Smartseries?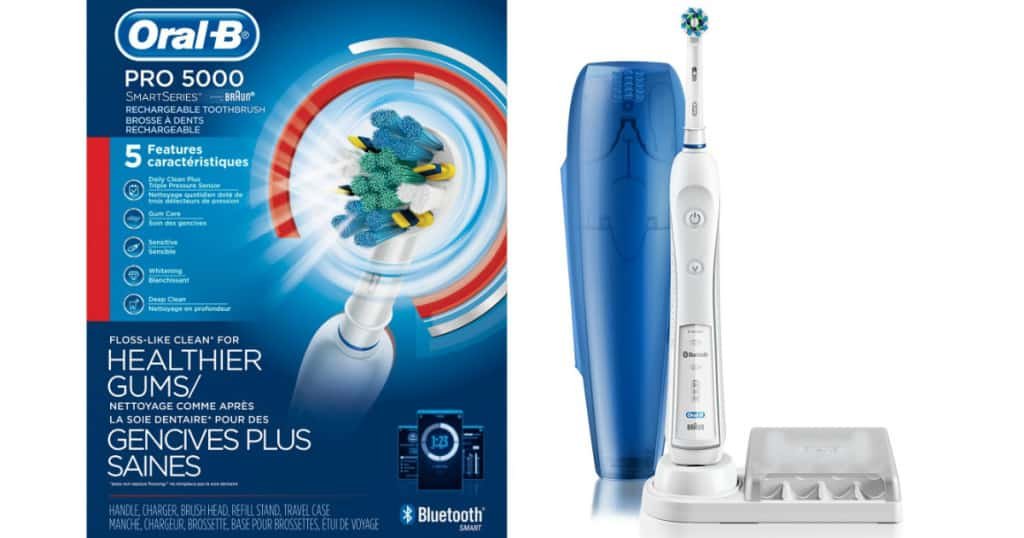 Braun Electric Toothbrushes are considered the market leaders when it comes to dental hygiene, NO ONE COMES CLOSE.
The Oral B Pro 5000 on review here is targeted at people who have the cash to splash out on an electric toothbrush with an eye on long term usability….
It is one of the most brought electric toothbrushes to date with over 2600 reviews. This tells us that this is one of the most reliable toothbrushes oral b have invented.
You must know by now that Electric toothbrushes are much better at getting rid of plaque than normal toothbrushes. There have been numerous studies carried out showing the superiority of electric brushes. Just browse this site and you will see numerous references.
Our Score
Superior Clean and 100% Healthier Gums* *vs a regular manual toothbrush
Bluetooth communication provides real-time feedback on brushing habits
3D cleaning action oscillates, rotates, and pulsates to break up plaque and remove more plaque along the gumline than a regular manual toothbrush
Pressure sensor lights up on brush and smartph1 if you brush too hard. 5 modes: Daily Clean, Gum Care, Sensitive, Whitening, and Deep Clean
To maintain the maximum battery capacity of the rechargeable battery, unplug the charging unit and fully discharge the handle with regular use at least every 6 months
If you don't want to read through the whole page, why not check out the Video Review below:

What Are The Key Features Of The Oral B Pro 5000 Smartseries:
Comes with a wireless smart guide to assist in getting a well balanced clean
Built in pressure sensor and LED notification light
Rechargeable
has a battery status icon
5 customized brushing modes (daily clean, deep clean, sensitive, massage, polish)
The brushing modes that
Design, Usability & General Use…
The Oral B 5000 is 4.5 cm thick and weighs 172 grams including the head which makes it pretty compact and light for the amount of technology that is rammed into it.
On the electric toothbrush itself there are only 2 buttons: The ON button and the brushing mode button as you can see from the picture underneath: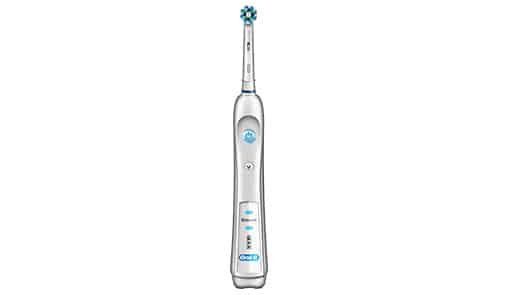 The lower 3rd of the portion is where you will see the battery status icon and the smartseries icons.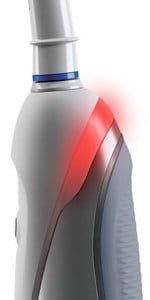 Another cool feature is that it will flash red when you are running low on battery and also when you are brushing your teeth too vigorously, because you know that harsh brushing will lead to enamel loss in the long term.
As it is a Braun electric toothbrush, you have a wide variety of choices when it comes to the brush heads, 3 of which are supplied with the electric toothbrush itself.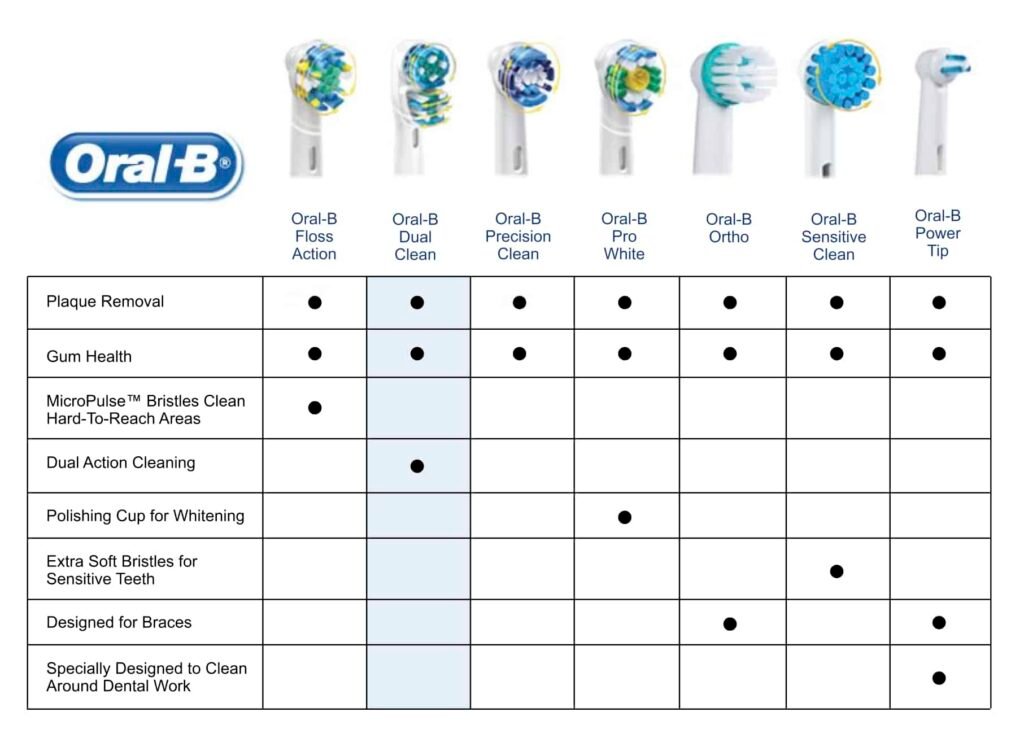 You can see all the different brush heads that are compatible with the oral b 5000 electric toothbrush. You are literally spoilt for choice.
Also provided with the brush is a storage box where the different brush heads can be stored, although you will need to clean it out regularly otherwise the moisture will start to collect in the box.
What Is The Battery Life Of The Oral B 5000?
The average run time for the oral b 5000 is 50 minutes based on brushing twice a day with the daily clean mode….
….Of course this will vary if you choose a different setting or if you brush for longer. 50 minutes equates to around 12 days of usage time before you will need to recharge.
Is Oral B 5000 Expensive…..
YES, simply because it is a long term investment in your teeth and if used correctly will easily last upto 4 years, even more. Don't miss out on this opportunity.
Oral B pro 5000 smartseries power rechargeable electric toothbrush is currently priced at $100 on amazon. it has been a best seller for a very long time and is also Amazons choice, (also my choice :>).
What Others Are Saying About Oral B 5000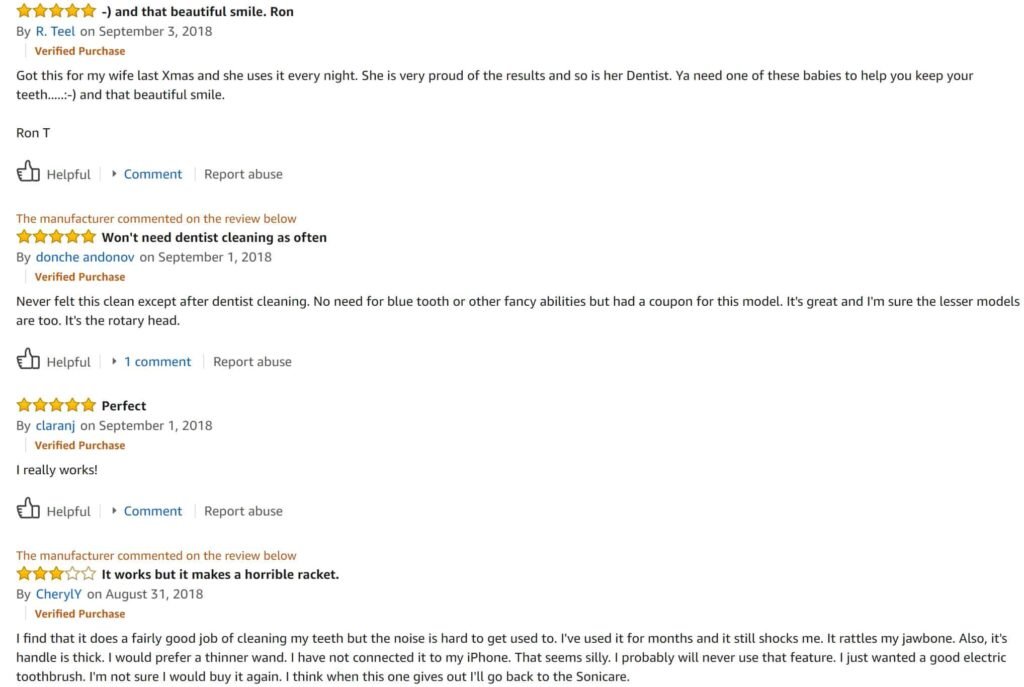 These are all genuine comments left by amazon buyers so you can feel confident that the oral b 5000 toothbrush is genuine and the fact that it's also a former best seller should make your choice alot easier when buying an electric toothbrush.
Are There Any Negatives About this Brush
Controlling the cleaning modes – you Can't change the cleaning mode until the brush is powered on and it's also hard to remember sequence of modes.
Battery Status – The battery lacks detailed feedback on the remaining power available
Bluetooth connectivity – although it's a Nice feature, not everyone will be able to get used to or in the habit of using it.
Final Verdict: Is Oral B Pro 5000 SmartSeries Worth It?
HELL YES….
It is one of the Best Oral B Electric Toothbrush range currently on the market (2023)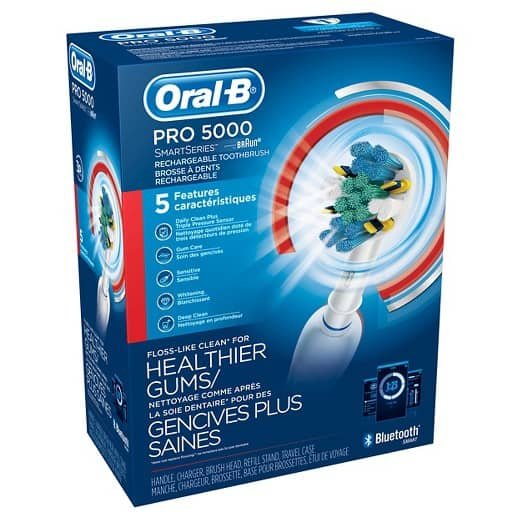 Over 2600 amazon reviews with the average rating of 4.5 out of 5.…
…That is exceptional by any standard.
Invest in the future of your teeth by getting the Oral B Pro 5000!!!
Final Verdict: 5 out of 5 stars
It's Important You Take Care Of Your Teeth On A Daily Basis….
Because You Only Get 1 Set In Your Lifetime And It Affects Your Smile!
Bonus: Get Fast Free Shipping…
For a limited time you can get the oral b 5000 electric toothbrush in your hands in just a few days (US) by clicking the link below:
==> Free & Fast shipping when you purchase the oral B 5000 through this special link
Oral B Pro 5000 F.A.Q
Q. Where to buy oral b 5000?
A. You can Purchase the oral B Pro 5000 toothbrush directly from Amazon.
Q. What is the oral b pro 5000 price?
A. Right now the price has jumped back up to $174.00 but it's a quality product and is to be expected.
Q. Is there a return policy if i am not satisfied or the product is damaged?
A. YES absolutely, there is a cast iron 30 DAY MONEY BACK GUARANTEE if forever reason you decide to return it.
Related Post: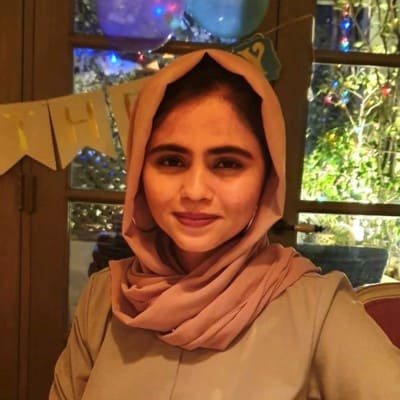 A qualified Dentist who holds the BDS, RDS qualification. When she's not helping patients with their oral health, you will find her on here writing topics on various dental issues. Her deep passion for writing makes her happy and fulfilled.