If there is one thing that plays a huge role in building your confidence, it's your appearance.
And the one thing in your appearance that makes you stand out is that perfect smile!
You know it 
I know it 
We all know that a crooked tooth, bad bite or canines making you look like a vampire is only going to make you self-conscious and ashamed to laugh out loud.
Moreover, orthodontic problems aren't just aesthetically displeasing; they also play a part in affecting a person's mastication or chewing and speech and make the affected jaw/teeth prone to accidental damage in certain conditions.
In some cases, the problematic teeth cause excessive gum damage, making a task as simple as chewing hard for the sufferer.
This and several other factors have lead thousands of people to consult an orthodontist and get their teeth straightened, for a perfect smile is not only going to make you look good, but help you feel good too, both literally and metaphorically.
However, when it comes to getting orthodontic treatments, the discomfort of traditional braces can add to an already stressful social life.
For this reason, as a dentist, I think it is my responsibility to let you know about the many aesthetically pleasing, newly equipped braces available near you to provide you with a fun, stress-free and equally beneficial orthodontic experience.
Read on to find out the Best Teeth Straightening Options For Adults…
Damon Braces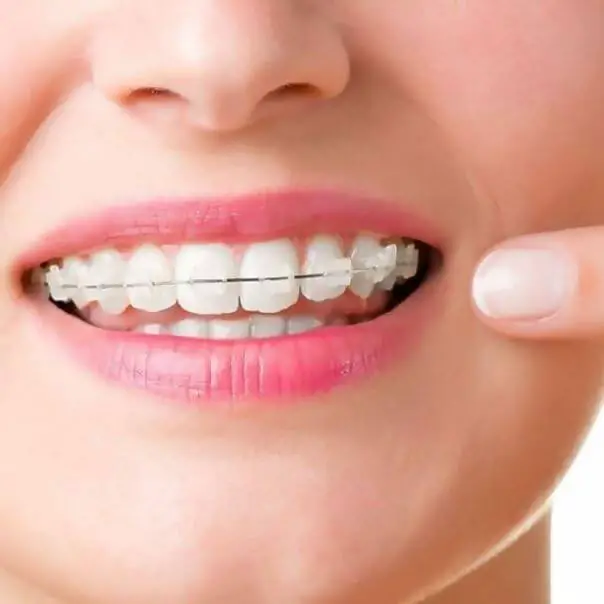 Fighting off the demons of painful experiences associated with traditional braces, the Damon System is a revolution.
By combining the effectiveness of the traditional metal braces with faster treatment time and easier cleaning, Damon braces can be used to treat several bad bite problems. From crowded teeth to abnormal jaw, it can treat them all!
Now, what make them so amazing are the 'self-ligating' brackets, which simply means that these braces close around the wire on their own, without needing any elastics or wires to tie them.
The arch wires attached to the Damon brackets are the memory wires which require no added pressure of the elastics and are set to move your teeth gradually, tightening overtime.
In this way, there will be no tightening needed, which in turn means fewer visits to the dentist and minimal to no pain as a result of less pressure.
Other than that, the clear brackets make them aesthetically pleasing because they are virtually invisible. Since the brackets are not being tied with elastics, friction between the bracket and the tooth is less as compared to the customary metal brackets.
In this way, the tooth structure is safer and subjected to minimal abrasion.
But, the one thing that makes the Damon system stand out is faster treatment time. According to a comparative study, Damon patients were treated an average 7.2 months quicker than those treated with conventional braces.
Invisalign Braces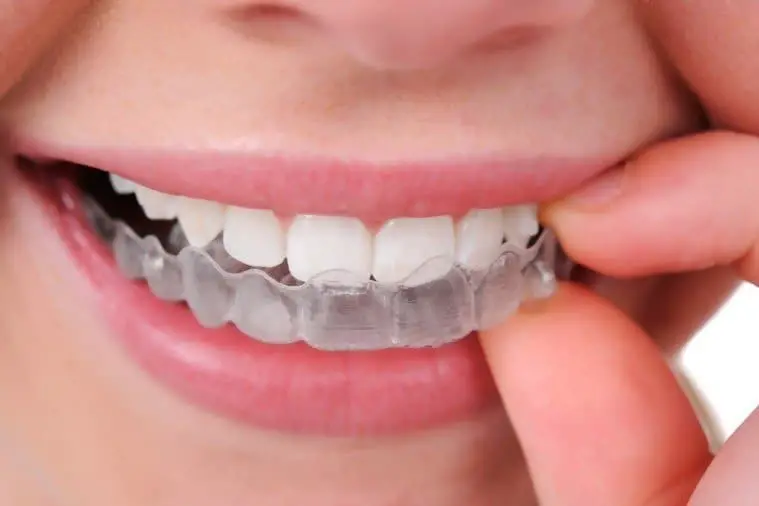 As the name suggests, these braces are supposed to invisibly align your teeth. Also called clear aligners, these orthodontic devices are a transparent form of dental braces made of flexible plastic.
They are a great invention for tooth movements that are not too complicated, making the process of getting a tooth or two back in place easily and without the hassle of going through the process of getting traditional braces.
The invisalign braces are a set of computer generated; custom fit trays that are ideally worn for 24 hours a day, with change outs every two weeks.
Some trays may even last for 6 months to a year, depending on the kind of treatment. These braces are ideal for those who want to straighten their teeth without having to let their social circle know.
It offers comfort in all ways, including no effect to the speech. However, these braces require the patient to wear retainers after getting done with the treatment, in order for the teeth to not shift back. 
They work best for the aesthetic aligning of the teeth rather than for improving their function. For this reason, the use of invisalign is only limited to less complicated and more aesthetically driven cases.
Since the invisalign braces are removable, the amount of time that they take in moving the misaligned teeth is comparatively slower than that of the traditional, fixed metal braces.
Therefore, if you plan on getting clear aligners for the amazing advantages that it comes with, make sure that you are listening to what your dentist is asking you to do and not using these tray-like braces as a toy. 
Wear them 24/7 and the results will be much more promising!
Smilelign Clear Aligners
Same as invisalign braces, the Smilelign clear aligners are just a better version. 
While other laboratories may take more than a month to manufacture the clear aligners, Smilelign promises no lengthy delays and the treatment can be started in as quick as 15 working days from your dentist sending in the impressions.
The trays are crafted after a lot of scrupulous planning and it is made sure that each brace, a bit different from its prototype moves your teeth in small increments, ensuring no pain or discomfort.
Inman Aligners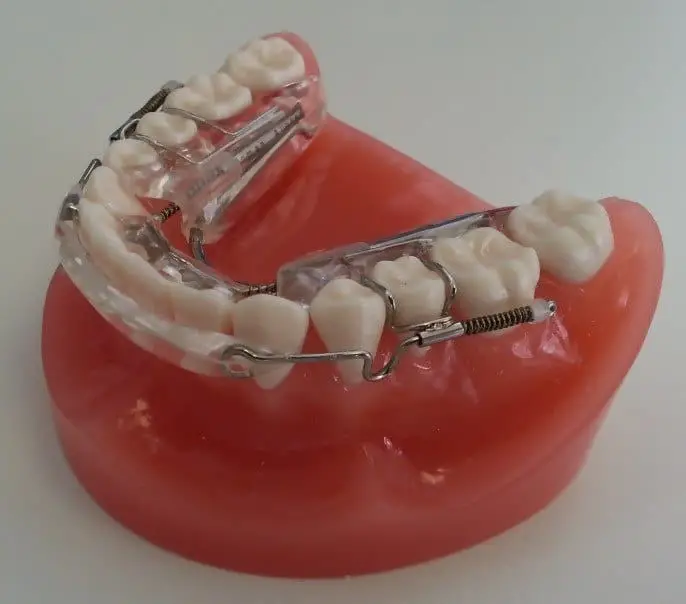 Ideal for the treatment of crooked front teeth, the Inman aligner is a simple removable appliance. Powered by the Nickel Titanium Coil Spring, the two aligner bows oppose each other, guiding the teeth into their new position.
The forces generated by this appliance are gentle and active over a very large range of movement. For this reason, the treatment time is very less and it only takes 6-18 weeks for most cases to be completed.
Apart from that, this aligner is very comfortable to wear, and the sturdy forces can be easily tolerated.
However, the limitations that Inman aligner comes with are somewhat similar to the clear aligners. You are supposed to wear them at least 20 hours a day with regular checkups every 2-3 weeks.
Along with that, once the treatment is done, a retainer is supposed to be worn for the rest of your life. The dentists who treat their patients with Inman aligners usually go for fixed, lingual bonded retainers.
Six Month Smiles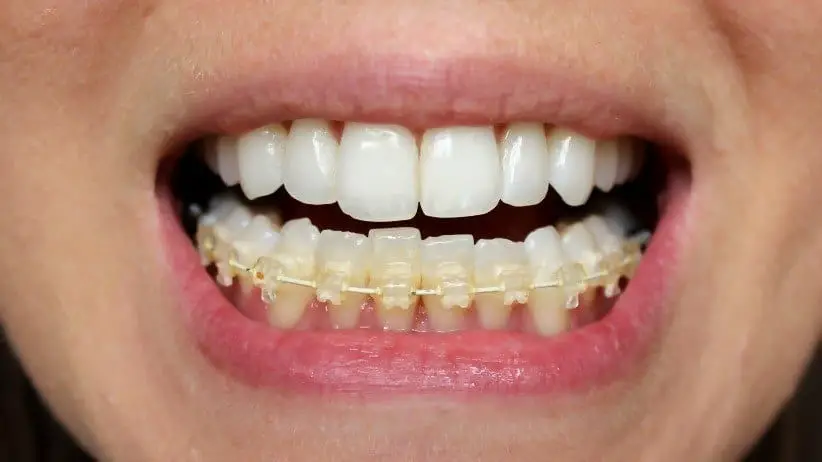 If you want to get rid of that crooked smile or close the gap between your spaced teeth, that too in the blink of an eye (not literally), the six month smiles system might be your calling!
With the use of discreet clear braces and tooth coloured wires, these braces are barely noticeable. Best part? The average treatment time is only 6 months!
But, again, the number of orthodontic problems that can be treated by this method are not the significant ones. Usually, this treatment is only successful in cases where the patient's bite (how the upper and lower teeth fit together) is perfect in the back, and there is very little spacing or crowding of teeth in the front.
So, if you are looking for something as good as conventional braces but virtually invisible to take that big gap between your incisors away, six month smiles could be a great option! But first, go to your orthodontist and talk about all the treatment options suitable in your case.
Lingual STb Braces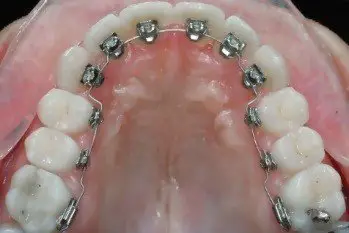 With so many options available to straighten teeth, the braces that are more like the traditional braces with an additional benefit of spot-on aesthetics are the lingual braces.
The brackets of these braces are placed behind the teeth i.e. by the tongue and the palate and work by applying gentle, yet continuous pressure on the teeth.
However, the process of taking an impression and sending it to the laboratory for the formation of custom-made brackets is time consuming. It takes no less than 6 weeks for the brackets to arrive.
There is also a special technique used by the orthodontists to place these brackets on the lingual or palatal surfaces of the teeth.
There are many laboratories/brands that are currently involved in manufacturing lingual braces, of which the most popular one is the Lingual STb System.
This brand ensures that the braces are designed for the patients comfort and ease of use. The STb is a single wing lingual bracket with a ligation notch designed to minimize friction. The small design accounts for minimal impact on tongue position and speech.
While clear aligners and lingual braces are in tough competition when it comes to aesthetics, lingual braces are the winners because the dentist doesn't have to worry about the patient's compliance.
What makes them stand out is the fact that they can be used on all levels of cases with no limitations involved!
Lingual Six Month Braces
With no difference in the mechanism of action from other lingual braces, the lingual 6 month braces are only used to align the front teeth that are visible when you smile.
These braces are ideal for those who want the exactness of the traditional braces in a short period of time, along with the added benefit of no visibility.
As they are technically more challenging than other types of braces including lingual braces used for longer periods, they are not very cost effective.
Apart from that, the patient needs to buckle up and make sure they don't give up while their tongue and speech are getting used to these braces.
Talk to a dental hygienist about how to keep them clean, because once the food gets stuck in them, it's a tedious job to take it out and clean them.
Final Thoughts – My No.1 Option For Teeth Straightening In Adults
The field of dentistry has considerably evolved over the past few years.
When just a decade before, getting braces used to come with a lot of social baggage, the new inventions have definitely made it easier for both patients and dentists to experience the orthodontic process with much more comfort, ease and happiness. 
Although, when it comes to deciding which one of these is my choice, it's a close call between the Damon Braces and The Lingual STb ones.
Even though the lingual braces are in a win-win situation in terms of aesthetics, the Damon braces are a whole package!
They aren't just virtually invisible, but require less chair time, no elastics or ligation and contain high memory wires. Unlike lingual braces, their treatment doesn't take much time to start and they are very easy to clean.
While adding the cost effectiveness of the Damon braces as compared to all others, I choose to side with the Damon braces and award them as my favourite!