You are here looking for the no BS answer to the question: How To Close A Gap In Your Teeth At Home?
Gaps between your teeth can be perturbing, making you search for practical and effective tips on how to close a gap in your teeth at home. Spaced teeth or diastema are prevalent, especially in the two upper front teeth.
People have varied feelings regarding such gaps, and to some, it can be a bother that makes them more reluctant to smile.
Also, spaces in your teeth can make eating food frustrating and uncomfortable, especially with food particles getting stuck between the teeth.
Even worse, significant gaps between teeth tend to be plaque traps, causing harmful bacteria to develop and tooth decay in hard-to-reach areas.
The good news is, gaps between your teeth don't have to be permanent. There are several proven tips to eliminate teeth gaps that don't require orthodontic treatment and can be practiced in the comfort of your home.
This post elucidates how to close a gap in your teeth at home.
How To Close A Gap In Your Teeth At Home?
A beautiful smile enhances your confidence and makes you attractive. But what if you have a gap in your teeth? You might be pushing yourself back from having a smile to hide the gap.
However, you shouldn't stop yourself now as there are plenty of ways by which you can close the gap in your teeth at home. 
You can do it easily by DIY braces or teeth bands which are in trend nowadays. First, you just need to put the band around the teeth you want to shift. Then, gradually, the gap between those teeth will get close. 
This method has worked for some people in practice, but this should be done with adequate attention and precautions failing to which may cause an adverse impact on your teeth and oral health. 
Though there are other methods, like using a retainer, dental bonding, etc., these are not DIY methods, and you will be required to visit your dentist to get them done and customized for you.
Straightening teeth is an art as well as a science. It requires special knowledge and understanding of mouth anatomy and other details to have better results.
In addition, any fault can lead your teeth to shift in the wrong direction or angle, which can cause more gaps and other problems associated with your gums.
Still, it would be best to consult a dentist as the wrong approach to DIY braces might end up damaging your denture.
Reasons Behind Gap Between Teeth
As already outlined, a diastema, especially in the two upper front teeth, is pretty common.
Typically, gap spaces between teeth don't have detrimental effects on your oral health. However, several contributing factors cause a gap between teeth.
Primarily, the size of teeth and the size of jaw bone determine whether an individual will have diastema.
For instance, persons with small teeth for their jawbone will probably have spaces between their teeth. In sum, genetics play a critical role in determining the size of teeth and jawbones. 
Other causes of a gap between teeth include:
Bad habits such as children sucking thumbs. The sucking motion puts pressure on the front teeth, pulling them outwards. 

Incorrect swallowing reflexes. 

Underdeveloped teeth. 

Overgrown tissues bordering your gum line.

Gum diseases. 

Tooth loss.
In today's world of science and technology, there are several techniques on how to close a gap in your teeth at home regardless of the attributing cause. 
Teeth Gap Fixing By A Dentist
Apart from braces, the dentist has several other methods to close the gap in your teeth. They are:
Retainers: Using retainers is one of the best, effective and budget-friendly methods to fill the gaps of those people in which the gap has been caused due to teeth shifting. This method is also helpful to other patients. You can get a retainer especially customized for you.
Dental Bonding: If the gap has been formed due to chipping them, your dentist may go for dental bonding. A matching resin is used to fill the gaps, making it hard for others to figure out if there was a gap before.
Veneers: Under this method, your dentist will clean the concerned teeth and then place porcelain there. Though it is a costly method, it lasts for 10-15 years.
Summary
How to close a gap in your teeth at home? There are many DIY methods to close the gap in your teeth. These are DIY braces and teeth bands. But, both methods require adequate attention, and any fault can have adverse effects.
Therefore, it is good to avoid such negative aspects of DIY methods and visit a dentist for other methods. This is recommended for your safety.
Frequently Asked Questions
Why Have I Suddenly Got A Gap In My Teeth?
When your teeth are underdeveloped and small for your jaw bone, then it gives rise to a gap in your teeth. This size of teeth and jaw bone can be due to your DNA information, and thus diastema can pass on from one generation to another. 
Do Gaps In Teeth Get Bigger As You Grow?
This can happen, but it happens very slowly and over the years. The reason can be reducing the size of your teeth along with your age. However, there can be other reasons as well. You should consult an orthodontist to know your case in detail.
Can Gap In My Teeth Cause Gum Diseases?
In few cases, gaps in teeth themselves happen due to gum diseases. However, the opposite is also true. The food debris may get stuck in between the gaps, and if not cleaned up, it can cause bacterial growth and resultant gum diseases or infection. Proper care and oral hygiene will avoid such outcomes.
Can Veneers Fix The Gap Between My Teeth?
Yes. Getting a dental veneer can help close the space between teeth. A dentist reshapes the affected teeth and places porcelain set over the surfaces of the impacted teeth. Veneers provide a natural tooth appearance and might last for a considerable period.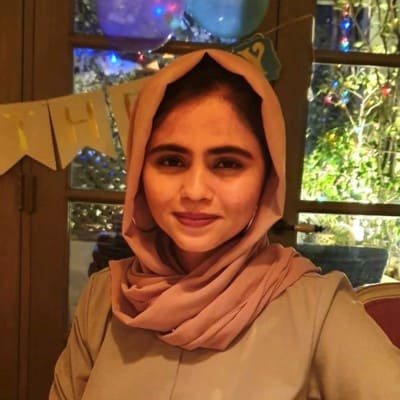 A qualified Dentist who holds the BDS, RDS qualification. When she's not helping patients with their oral health, you will find her on here writing topics on various dental issues. Her deep passion for writing makes her happy and fulfilled.