Brush, Brush, Brush your teeth gently in the morning…
And Night Time
Yes, brushing the teeth is an essential part of our lives
Finding the best toothbrush can be quite a challenge especially if there are so many styles and brands available on the market.
In this article, we will discuss the Wellness Oral Care Sonic Toothbrush Hp-Stx (available from Amazon) and let you decide whether it is for you or not.
What do you look for in a toothbrush?
When you are choosing a toothbrush there are certain factors that you must consider. We do not want you to waste your time on getting a product that will just fail and end up wasting your money.
That's why it's important to read the full review to understand the details properly.
What To Consider When Buying A Toothbrush?
Power
Electronic toothbrushes are better than manual ones. It makes brushing easier and makes the teeth cleaner. This is thanks to the vibrating technology working at high frequency to dislodge more of the plaque.
Comfort
You should pick a toothbrush that you can use easily and will let you brush your teeth thoroughly especially the hard to reach places. Some toothbrushes are difficult to use and can become an issue. This will make you use it less.
Toothbrush Bristles
Choose a soft-bristled toothbrush as it will help gently remove plaque and food particles stuck in between the teeth and will also massage the gums and the tongue. Hard bristled toothbrushes can cause irritation and damage your teeth and gums which can cause infection and other oral problems.
Toothbrush Head
Toothbrushes with small heads are generally better and more efficient in cleaning the teeth. It can easily get to the hard to reach places of the mouth.
What Is Wellness Oral Care HP STX Toothbrush?
This toothbrush is created by Wellness Oral Care and is designed to clean the teeth and other areas in the mouth thoroughly.
It's engineered to generate 34,000 strokes per minute. This is plenty of power to clean your teeth, tongue and massage your gums. It also effectively removes food particles stuck in between your teeth and hard to reach areas in your mouth such as the sides of your molars.
How Does Wellness Oral Care HP STX Toothbrush Work?
It works just like any other electric toothbrush. It has interchangeable brush heads, making it easy to remove after every 2-3 months of using it.
Designed with 3 modes of operation: You can choose which one works perfectly for you:
Soft/Gentle – This mode will vibrate with a lesser intensity which makes it safe to use even for children and adults with sensitive teeth and gums.
Power/Clean – This mode cleans your teeth and removes plaque with its efficient and effective work mode.
Massage – This mode gently massages the gums for optimum health and better blood circulation.
It also has a feature to notify you if you have been brushing the same spot for more than 30 seconds.
It has a two-minute timer to make sure you are getting the full clean.
As you probably know people tend to brush quickly and miss many ares of the mouth. The back of the teeth being the most under cleaned surface. That's why you see more plaque and tartar build up their.
On the other end of the spectrum you have people who brush their teeth for excessively long periods and this can cause gum recession and enamel wear.
But luckily this toothbrush has an auto-shut off feature that will make sure to prevent long periods of brushing and thus saving your teeth from unnecessary damage.
Is Wellness Oral Care HP STX Ultrasonic Toothbrush For Everyone?
Apart from babies and toddlers this toothbrush can be used by anyone. It's really simple to use and doesn't have any complicated bluetooth technology like some premium brushes like the Oral B 7000.
We recommend you supervise your kids for the first couple of times so they know how to use it properly.
Top 3 Features Of Wellness Oral Care Brush
3 Cleaning Modes
you have the following modes to utilize:
Soft/Gentle – This mode will vibrate with a lesser intensity which makes it safe to use even for children and adults with sensitive teeth and gums.
Power/Clean – This mode cleans your teeth and removes plaque with its efficient and effective work mode.
Massage – This mode gently massages the gums for optimum  health and better blood circulation.
10 Advanced Brush Heads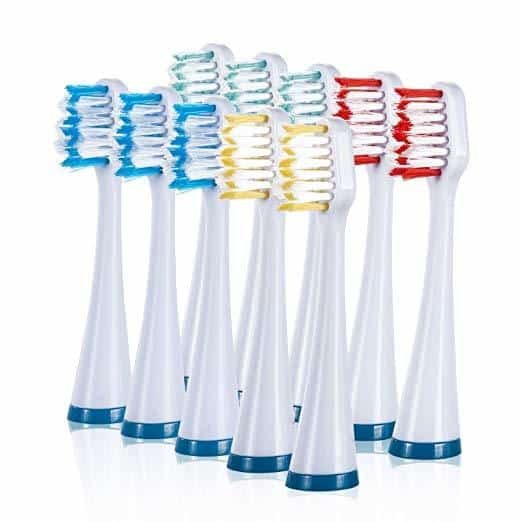 Wellness toothbrush are very generous as they give you a handful of brush heads. All of them have rounded bristles to help you brush your teeth comfortably and reach hard to get areas.
Timer/Alert
This is one of the more important features because it gives you the ability to know when you have brushed your teeth for the required 2 minutes.
It also has a feature to let you know to change the area of your mouth you are cleaning every 30 seconds.
Pros
Affordable
Lasts for two weeks with just a single charge
Comes with 10 interchangeable replacement brush heads (It can be used by different family members by just replacing the brush heads and it comes in different colors as well for easy identification.)
It comes with a 1-year warranty
Auto shut off feature – Allows you to use the electric toothbrush for two minutes and will auto shut off after to prevent over-brushing.
It has a portable docking station
Lightweight (both children and adults can use it)
Cons
It has a slippery grip
The different settings produce the similar effects; there is no noticeable difference while using them.
Brush heads are easily broken.
What Do Customers Think Of The HP STX Ultrasonic Toothbrush
The reviews on Amazon suggest this toothbrush is great at getting your teeth cleaned. The majority of people enjoyed how easy it was to use.
Others have had it for almost a year and been surprised it has lasted this long. Especially considering it's not a well known brand.
However there were a number of people who reported the toothbrush heads being broken in half after a couple of weeks of using them. I guess that's why the company provide you with 10 replacements :)
Comparison Table
[amalinkspro_table id="3806″ aff-id="oralbman-20″ new-window="off" nofollow="on" addtocart="on" /]
Conclusion
If you are curious about buying electric toothbrushes and want a practical and affordable electric toothbrush, you should try Wellness Oral Care HP STX Toothbrush.
You can enjoy it's 3 different modes which are Clean, Soft, Gentle and the 2 week battery life on a full charge is excellent. What's more is it comes with a storage case that can fit 4 brush heads.
There are other toothbrush manufacturers that sell expensive replacement brush heads and the tendency for the user is to buy them because they do not have a choice.
Fortunately this toothbrush comes with 10 replacement heads so you won't have to worry about forking out extra cash.
It's really cheap at the moment which is even more of a reason why you should head over to Amazon and grab one for yourself.
FREQUENTLY ASKED QUESTIONS
Is there a warranty when you buy the product?
Yes, it comes with a 1-year warranty.
How many strokes does Wellness Oral Care HP STX produce per minute?
Wellness Oral Care HP STX Toothbrush produces 34,000 strokes per minute which makes it really powerful to clean your teeth and get rid of plaque that can cause dental cavity and gum diseases.
Can you use it inside the shower?
No It is better for you to use it in the sink. The docking station can get wet and it can cause electrical issues.
Can you use it to whiten your teeth?
No, it does not have any whitening effects when used on the teeth. If your teeth have darker stains, whitening products must be used.
How long does the battery last?
The battery lasts for 2 weeks whether you use it frequently or not.
I Have a Sensitivity Issue. Is It Safe to Use an Electronic Toothbrush?
The conventional brushing technique does give you control, no doubt, but the problem is that sometimes with tired or hurried mornings, we might unconsciously brush our teeth too hard or apply sudden pressure to a particular section.
This leads to trauma to the gums, and if you are already suffering from sensitivity issues, you might damage a nerve.
Electronic toothbrushes perform in a uniform motion and with bristles as gentle to your gums. When you want to brush the inner sections, increase the intensity for thorough cleaning.
 How Do I Use an Electronic Toothbrush Safely?
Be very well assured that the chances are less. In short, NO.
The voltage on which these toothbrushes operate is relatively low.
But here are a few precautions- don't charge the brush overnight; it may damage the product from within, in which case, you still won't get electrocuted, just that the product will stop working.
You have to be careful with the charger because if you have a few faulty wires, that may lead to electrical issues.
From some of the reviews, it is clear that you have to keep the base station unplugged and only use it while you are charging. This way, you can be assured that you don't experience any battery issues.
 The Product Says That It Has Sensors and An Automatic Shut-Off. But What If Need Extra Brushing?
That won't be a problem; you can anytime start it all over again. The 2-minute feature is only for those who tend to fall into the time loop of unnecessary brushing.
This is great for kids who have not fully grasped the concept of brushing.
I Don't Know Why, But the Bristles Scatter Within A Few Uses Whenever I Brush. Will This Product Help Me with This Issue?
It's quite a common issue, actually; however, you can try out this brush since it rotates in quite a uniformity. As for the bristles, they are soft and gentle—as claimed by the brand. Usually, such bristles last longer.
But if you still experience this issue, there is a simple trick where you immerse your toothbrush in warm water, which helps to align the bristles back to their original form.
Related Post: Oral B Toothbrushes Sale Now On For Christmas!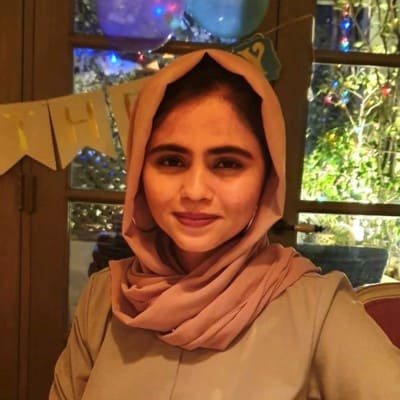 A qualified Dentist who holds the BDS, RDS qualification. When she's not helping patients with their oral health, you will find her on here writing topics on various dental issues. Her deep passion for writing makes her happy and fulfilled.