This kit works like magic and radiates what Crest stands for!
In the past, I have tried many products and methods to achieve pearly whites.
I envied all the actors and actresses as they showed off their sparkling white smiles, but I knew they had the money to get professional treatment carried out.
Our Score
20 Levels Whiter in just 22 days
Removes over 20 years of tough set-in stains
#1 Dentist recommended at-home teeth whitening brand
Uses the same whitening ingredient as dentists
Enamel Safe & Effective
But us average folks tend to rely on whitening toothpaste, whitening pens and even the natural baking soda method, But none have worked as effectively as 3D Crest Whitestrips (available from Amazon) 
The strips are coated with a tooth whitening gel that will produce the same results as in-office bleaching but at a significantly lower cost.
For 30 minutes a day, your smile will brighten the faces of your spouse and family. I saw results as little as three days and full whitening at twenty days.
Since the completion of my treatment a year ago, my teeth have stayed perfectly white by following a proper oral care regime.
Not Convinced?
Read the full Crest 3D Whitestrips professional effects Review to see if this is a perfect fit for you:
Who Is Crest 3D Whitestrips Professional Effects For?
The people best suited for this kit are:
18+ year old's
People with moderate to extreme stains
People who want quick whitening for an upcoming special event
Compared to kits that force the consumer to apply multiple different gels and use LED lights, Crest has made it an easy and enjoyable process.
The Whitestrips will reach and hold tight to places that may be impossible to reach with regular conventional strips.
That being said, there are some that WON'T be able to use this product, these include:
People Under 18 years of age
Those with underlying oral health issues like gum disease
People with veneers and dentures
The teeth whitening process can be too harsh for undeveloped enamel.
Dentures as well as veneers may not whiten well or at all from the process, so keep that in mind, especially if your buying these as a gift for someone!
As always make sure you follow up with your dentist before you try any home whitening kits.
Special Features Of Crest 3D Whitestrips Dental Whitening Strips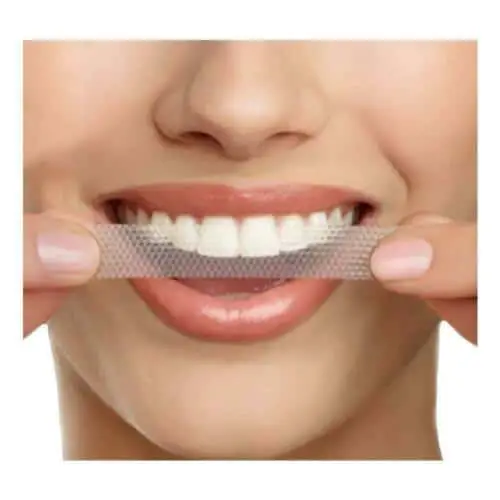 The One Hour Express Whitestrips
The bonus one-hour Whitestrips included with the regular treatment can do wonders in an emergency.
In the early stages of my treatment, I remember when my parents called in to remind me of a family reunion they were hosting at an establishment.
All my uncles, cousins, nieces and other acquaintances would be present. Panicked and embarrassed by how tainted my teeth had gotten from constant exposure to coffee and tea, I decided to roll the dice on this product.
I put the strips on and waited an hour, anxious of what the results would be.
To my surprise, my teeth had whitened from a dark yellow shade to a light moderate yellow.
Advanced Seal Technology
Compared to other strips in the teeth whitening market, none have come close to Crest advanced seal technology. 
During the application of the strips, you can feel the grip and quality of the product. The technology allows you to continue with your daily tasks ranging from walking, talking and even exercising. 
My girlfriend was so impressed with how transparent and comfortable they were that she ordered one for herself.
Heck, I even went outside once to run a business errand and nobody noticed that I had these on!
If you are tired and/or looking for a product that won't fall out of your mouth from a single movement or expression, then the Crest 3D whitestrips are your best bet. 
Strong And Safe Formula
Crest has developed one of the strongest formulas on the market that contain a safe level of hydrogen peroxide (the agent that whitens teeth) of about 9.8%.
The intended usage time of thirty minutes is enough to whiten teeth without the risk of damaging the surrounding gums and enamel.
The taste of the strips from my personal experience is bittersweet and highly tolerable. You won't have any problems if you follow the directions on the label and this article.
If you are like me, who worries about the long-term effects of cosmetic products on your health, choosing a reliable brand can help relieve that tension.
How To Use The Crest 3D Whitestrips Professional Effects? 
Follow these 6 simple steps:
Clean teeth before applying
Open the box and take out one treatment for that day
Peel the white strip away from the liner
Apply the white strip with the gel side facing the intended teeth, follow the gumline.
Press the white strip into teeth for best results, leave on for 30 minutes.
Remove and reveal smile after time has passed, rinse out any excess gel with water.
The strips are made to fit comfortably in your mouth, so no extra tug and adjustments are necessary.
With its new and improved Advanced Seal Technology, walking and talking while whitening is easily possible.
What Health Experts Say About the Active Ingredients In Crest 3D Whitestrips?
The main active ingredient in Crest 3D Whitestrips is hydrogen peroxide (10%), which is used in many teeth whitening products and procedures.
In fact, according to Clevelandclinic.org, "You should be aware that over-the-counter whiteners contain up to 10 percent peroxide versus the prescription strength whiteners which contain 20 to 40 percent peroxide". 
This is mainly because when whitening is done in-office, it is a one-day treatment compared to the 20-day treatment from the Crest 3D Kit.
So by opting to use teeth whitening at home instead of paying thousands of dollars at the dentists office, you exhibit the same results at a cheaper price however, it will take slightly longer.
The peroxide targets the dentin, which makes up most of the color of our teeth. The Enamel is mostly translucent but is an important barrier against tooth decay.
This is why I stress the importance of making sure whatever teeth whitening products I recommend are safe to use before anything else.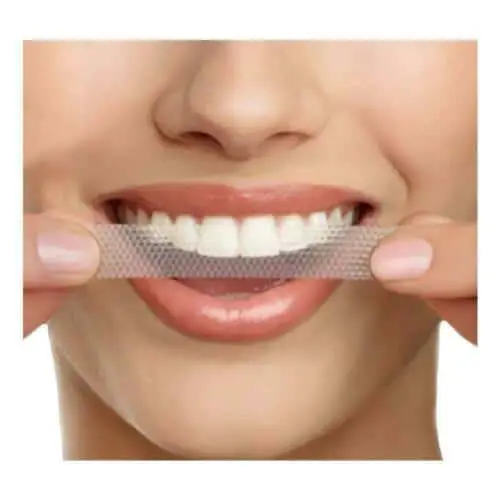 Pros​
Removes 14 years of staining (Oh Yes!)
Inexpensive compared to other methods of equal results
Safe and effective procedure (Enamel Safe Technology)
Dentist approved and recommended
Fast Results (Visible after 3 days, Full results in 20)
Advanced Seal Technology removes slipping and sliding issues (Allows user to walk and talk during whitening)
Includes two treatments of 1 Hour Express that quickly reveal same-day results for a noticeably whiter smile.
Long lasting Results (at least one year and beyond)
Trusted Brand
Cons
Treatment is extensive and must be followed consistently (30 minutes a day for 20 days). The program needs commitment but the results will speak for themselves.
Not suitable for sensitive teeth (Strong Formula). The formula has a good amount of hydrogen peroxide that is harsher on the enamel than most teeth whitening ingredients on the market today. I personally haven't experienced any harsh sensitivity towards the product. 
The excess gel might be left after taking off the whitening strips. Just rinse out with water to completely remove the leftover particles
What Customers Say About The Crest 3D Whitestrips Professional Effects
Looking through the reviews on Amazon, I have found that many are amazed by the effectiveness and toughness of the whitening gel.
Similar to my experiences, others have seen a shocking change in teeth color just three days into the treatment.
Considering that the Crest 3D Whitestrips Professional Effects is rated as the #1 best seller in teeth whitening, it is no surprise that most of the reviews (more than 60%) are 5-stars.
One person was so impressed on how simple it was to put on that she didn't have to read the directions (not recommended) and others found the fit to be comfortable.
The taste wasn't an issue on any of the reviews since none complained about it or even addressed it.
They were all commenting on how they did not experience any sensitivity to the hydrogen peroxide used in the product and nobody had any damage to the enamel.
Final Thoughts
Well ladies and gentlemen, that is everything you needed to know about the Crest 3D whitestrips professional effects Home Kit.
If your serious about becoming more attractive without jeopardizing your oral health for yourself or loved ones, then go start your journey by buying the kit on Amazon.
This tooth whitening kit is the best rated product on the market today.
Fast results with minimal effort make this an opportunity you can't resist.
Having a smile as perfect as TV personalities without spending a fortune has become a thing of the past.
These are perfect for anyone's morning routine, where all you need to do is make sure your teeth are clean, peel and apply the strips onto your teeth and wait 30 minutes while you socialize, exercise or whatever the hell you like doing.
They are not too expensive either considering the fact you get 22 treatments.
This should be more than enough for you to see some life changing results 
Crest 3D Whitestrips Professional Effects Kit F.A.Q
Q. Will Crest 3D Hurt My Teeth or Enamel? 
A. No! Crest 3D Whitestrips use the same enamel-safe teeth whitening ingredients dentists use in bleaching procedures. If used as directed, one should not encounter any side effects.
Q. How Do Crest 3D Whitestrips Work?
A. Crest 3D Whitestrips are flexible strips that conform to the shape of your teeth, containing a safe tooth whitening gel. The gel is held in place against your teeth by the strips to remove stains below the enamel surface.
Q. How long does the whitening last?
A. Expect the whitening to last at least 4 months from the end of treatment if teeth are constantly exposed to coffee or tea. If proper care is practised (using whitening toothpaste, avoiding staining foods and liquids) then results can last a year and beyond.